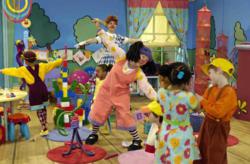 Our goal is to remain a forerunner in the digital space and to expand our reach. Innovative services like Ameba make the process easy. - Sandrine Pechels de Saint Sardos, Bejuba!'s VP of International Distribution
Cannes, France (PRWEB) October 07, 2012
Ameba (http://www.amebatv.com), a pioneering children's streaming TV provider, today announces a promising digital distribution partnership with renowned Canadian producer-distributor Bejuba! Entertainment. The groundbreaking alliance will soon bring award-winning Bejuba! properties The Big Comfy Couch, Musti, and Sooty to Ameba, which is available on more than 5 million Internet-connected consumer electronics devices throughout the U.S. and Canada.
At MIPCOM 2012, Ameba will be exhibiting and meeting with producers, distributors, and rights holders at stand 02.10, Table 13 in the Canadian Pavilion, from Oct. 8 to 11.
"Bejuba! is excited to continue expanding our programming exposure in the digital space with Ameba," says Bejuba! Vice President of International Distribution Sandrine Pechels de Saint Sardos. "We're delighted that kids now have a wider possibility to see more kinds of quality educational programming. Our goal is to remain a forerunner in the digital space and to expand our reach. Innovative services like Ameba make the process easy."
"Bejuba! is a perfect-fit partner for Ameba, given their strong digital strategy and outstanding family entertainment catalogue," says Ameba founder and CEO Tony Havelka. "With Ameba's multi-platform reach and expertise, we can seamlessly deliver Bejuba!'s critically-acclaimed brands to families wherever and whenever they watch -- via the web, smartphone, tablet, or TV."
Heralded as one of the greatest preschool shows ever produced, the Emmy Award-winning The Big Comfy Couch features Loonette the Clown and her best friend Molly the Doll. Musti, created in 1969 by the Belgian graphic artist Ray Goossens, is a sweet, inquisitive kitten. The new Musti CGI series continues the traditions of the original 2D show. Sooty is a live-action/puppet preschool children's show featuring the United Kingdom's favorite teddy bear, Sooty, and his friends Sweep, Soo, and Richard.
About Ameba
Ameba is a one-stop digital distribution solution that makes it fast, easy,
and free for children's programming producers, distributors, and rights
holders to: transcode and upload their videos to today's hottest digital platforms; gain mass audience exposure throughout the U.S. and Canada; and generate royalty-based revenues for their content. Ameba seamlessly delivers and monetizes children's properties on more than 5 million Internet-connected consumer electronics devices throughout the U.S. and Canada.
For $3.99 per month, Ameba serves up thousands of hours of engaging,
educational programming to families with children ages 2 to 12. Ameba subscribers get unlimited, 24/7 instant access to thousands of hours of enriching, age-appropriate kids TV shows on the web, Google TV, Roku, iPhone, iPad, and iPod touch, LG Smart TV, LG 3D Blu-ray player, and LG Smart TV Upgrader.
About Bejuba!
Bejuba! specializes in rights management, co-productions, financing
(closing-gap financing), third-party acquisitions, licensing, merchandising, and program sales in Canada, the U.S., and internationally. The company maintains a growing catalogue of more than 600 half-hour episodes of award-winning children's and family-oriented animated, live-action, and multi-platform programs (including The Hive, Zooville, and Noah Comprende).
Bejuba!'s partners include Collingwood O'Hare Productions (UK), PBS, Lupus Films (UK), BrainPower Studios (Canada), Kapow Studios (Australia), and multi-award winning animation interactive studio zinc Roe Design (Canada.).
Press Contacts:
For more information about Ameba, please visit http://www.amebatv.com, or contact Kim Lachance Shandrow at 562-972-3956 or kim(at)amebatv(dot)com.
For more information about Bejuba! please visit http://www.bejuba.com, or contact Bejuba! Entertainment President Tatiana Kober at 1-310-428-7192 or tatiana(at)bejuba(dot)com.