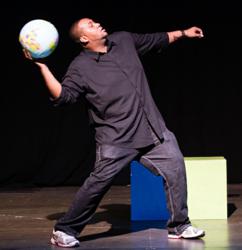 "...a hilarious yet intensely deep account of one man's battle between the world and his sanity." Wendy Simmons, UnRated Magazine
Chicago, IL (PRWEB) October 08, 2012
After opening to rave reviews and garnering national media attention with his Hunger Aims: 40 Day Fast to Fight Depression, Chicago playwright/producer Wendell Tucker and Director/Producer, Thema Peters return to the stage with the hilarious new comedy "Wendell Tucker Hates the World." This one man show, starring the acclaimed playwright, draws upon Wendell's experiences as an African-American male diagnosed with Major Depressive Disorder. Topics range from pop culture to cultural health care taboos, as he seeks to urge minorities to fight for their mental wellness. "Wendell Tucker Hates the World" runs October 11-14, 2012 at the Viaduct Theater, 3111 N Western, Chicago, IL 60618. Tickets are $20 and can be purchased at the box office, online at http://www.theoristages.com, or 888-71-TICKETS.
About "Wendell Tucker Hates the World"
"Wendell Tucker Hates the World" is a riotous exploration of a troubled psyche. In the span of one hour, Wendell rages against the world in a raw, honest declaration of imperfection and the quest for healing. No subjects are off limits as he muses on "fatcism", how technology is destroying society, and perceptions of mental illness in minority communities. What can possibly cause a person to feel such malice towards the world? How do you deal with such deep seated anger? Are these just the rantings of the "world's angriest playwright", or is there a deeper, more pervasive issue causing Wendell Tucker to Hate the World??
A Word about Depression in Minority Communities
Recent studies have shown that African Americans and Hispanics are less likely to be diagnosed with Major Depressive Disorder and less likely to receive adequate treatment once diagnosed. The numbers are staggering with the post diagnosis treatment disparity between ethnic groups and Caucasian groups reaching 16%. Lack of awareness about resources, health care coverage, racial discrimination and social stigma of mental illness in minority communities have all been noted to contribute to this issue. Major Depressive Disorder can be managed and overcome with proper therapy and medication if necessary.