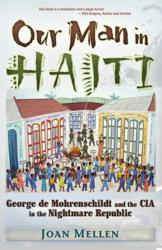 Author and Activist, Dick Gregory declares, "This book is a revelation and a page-turner."
Walterville, OR (PRWEB) October 08, 2012
Best-selling author Joan Mellen's new book, Our Man in Haiti: George De Mohrenschildt and the CIA in the Nightmare Republic, soon to be published by TrineDay, is receiving strong praise before it's release this fall.
Author and Activist, Dick Gregory declares, "This book is a revelation and a page-turner." Gregory continues, "Ever since Toussaint L'Ouverture and the people of Haiti inspired a continent and shocked the world by defeating the great armies of Napoleon in the first great slave revolt, Haiti has been targeted by U.S. rulers.
"In Our Man in Haiti, her 20th book, Joan Mellen, the best–selling, acclaimed historian and cultural critic tracks brilliantly the relentless role of the U.S. military and the CIA in the internal life of Haiti.
"Mellen takes us inside the sinister world of CIA as it installs, controls and seeks to displace Francois Duvalier, deploying eight para-military invasions while trafficking in arms and the Mafia. We are immersed in a shocking record of perfidy punctuated by pay-offs, secret bank holdings, murder and drugs.
"Through newly revealed documents of CIA and military intelligence, Mellen dissects the role in Haiti of George de Mohrenschildt, the CIA's controller of Lee Harvey Oswald in Dallas.
"This is a dark hidden history and Joan Mellen has finally shined light upon this darkness exposing the role CIA Counter-Intelligence Director James Angleton through previously unknown CIA documents and those of the top-secret 902nd military intelligence group."
Zachary Sklar, co-screenwriter (with Oliver Stone) of the film JFK and editor of Jim Garrison's book On the Trail of the Assassins, has this to say:
"Our Man in Haiti is a harrowing journey into the belly of the beast. Following the trail of George de Mohrenschildt, an obscure character lurking in the shadows of the JFK assassination, Joan Mellen uncovers the CIA's destructive machinations in Haiti from the 1950s until today.
"The shameful story is filled with deception, greed, violence and intrigue. The cast of characters – including self-proclaimed barons, arms and drug dealers, paramilitary mercenaries and Mata Hari-like spies – seems to have taken refuge from an undiscovered John LeCarre novel. But sadly, this is not fiction. It is all meticulously source-noted and horrifyingly true. Joan Mellen has done an astonishing job of wading through previously secret government documents to tell a story that continues to this day – the story of how the CIA goes about manipulating and overthrowing governments of desperately poor countries in order to secure the profits of big American corporations."
And Mark Lane, lawyer and author of Rush to Judgment, Plausible Denial and, Last Word: My Indictment of the CIA in the Murder of JFK, comments:
"Joan Mellen, whose work has demonstrated that she is an excellent researcher and writer, scores again with Our Man in Haiti. A new and different subject, but the author's skills are apparent."
TrineDay, a small Oregon publisher specializing in suppressed works, is releasing Our Man in Haiti: George De Mohrenschildt and the CIA in the Nightmare Republic in November 2012.
TrineDay books are made available to the trade by Independent Publishing Group of Chicago.
###