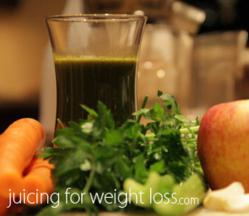 An ounce of prevention is worth a pound of cure.
San Diego, CA (PRWEB) October 15, 2012
The cold season has once again arrived, and more people than ever are looking for a proactive way to survive in full health. As Benjamin Franklin famously said, "an ounce of prevention is worth a pound of cure;" which could not be better suited than to juicing and it's role in supporting the immune system.
It's estimated that more people go to the doctor for colds and influenza between September and May than for anything else. Unfortunately, because there is no 100% remedy for the common cold or it's evil cousin the flu, most people often "give in", and simply accept getting sick this time of year as a way of life.
Juicing fresh fruits, vegetables and leafy greens however can offer many benefits including helping to bolster the immune system. Even if a sneeze or sore throat does happen to take hold, juicing can help the body recover quicker and often reduces the severity of the cold or flu.
The key to juicing is the concentrated doses of bio-available vitamins, minerals, and antioxidants. After all, the human body was designed to get nutrition from food, not from chemical versions of the vitamins often found in nutritional supplements. In some cases, juicing has benefits over consuming the whole fruits and veggies since juicing breaks down the cellulous walls (fiber) releasing much of the nutrients for easier absorption.
Below is a list of popular fruits, vegetables and greens for cold busting juice recipes:
Oranges - This common cold buster earns it's reputation from delivering 130% DV of vitamin C in one medium-sized orange. Oranges contain over 170 different phytonutrients, 60 flavonoids, 38 limonoids and 20 carotenoids. These powerful nutrients combined with the high vitamin C make for a powerful antioxidant and immune health boost.
Grapefruit - Grapefruit is an excellent source of vitamin C with just one-half of a grapefruit containing 100% DV to give your immune system a pick up. The red and pink varieties are especially good choices because they're also packed with particular bioflavonoids such as lycopene.
Lemons - Lemons are an excellent source of vitamin C (40% DV) and have a long history of being used for their immune supporting, antibacterial and antiviral powers. The flavonoids found in lemons are also believed to have antioxidant and anti-inflammatory properties. Many people turn to lemon juice to help relieve sore throats.
Kiwi - Kiwi is loaded with vitamin C. Two medium kiwis deliver a whopping 240% DV of vitamin C and contain about as much potassium as a banana. Kiwi is also one of the fruits with the highest level of vitamin K and is a good source of the antioxidants vitamin E, Lutein and Zeaxanthin.
Cantaloupe - Provides immune supporting vitamin C and vitamin A. Vitamin A supports healthy skin, which is our first line of defense against illness and infection. ¼ of a melon contains approximately 124% DV of vitamin C and 138% DV of vitamin A. Cantaloupes also provide polyphenol antioxidants, which are linked to boosting the immune system among other many benefits.
Strawberries - Just 8 strawberries contains 160% DV of vitamin C. Strawberries also contain a wide range of vitamins, minerals and omega-3 fats. Strawberries are a great source of the antioxidant anthocyanin, ellagic acid and other various phytochemicals that can help protect your health and destroy illness-causing germs.
Blueberries - Blueberries are high in antioxidants and are a good source of vitamin C and vitamin E. Wild blueberries in particular are potent immune boosters. They contain powerful phytochemicals, such as anthocyanin, which is the pigment that gives blueberries their color.
Spinach - Spinach is nutrient-dense and plays an important role in immune function because of its naturally high antioxidants. Spinach also contains an abundance of vitamin A, which is a key component of white blood cells that help fight infection.
Watermelon - Watermelon is packed with vitamins, minerals, and other nutrients, but what makes it special is its large concentration of lycopene. Lycopene gives watermelon flesh its red color and offers a variety of health benefits, including reducing respiratory inflammation, which helps prevent infection. Watermelon also contains a powerful antioxidant called glutathione, which has been reported to help strengthen the immune system.
Carrots - Carrot juice has long been reported to strengthen the immune system and help with respiratory issues. Just 1 medium carrot contains a high amount of beta carotene (vitamin A precursor) 270% DV, which helps boost the immune system's production of immune specific cells such as B and T lymphocytes and natural killer cells.
Red Bell Peppers- Red bell peppers tend to provide the most advantages over other bell pepper colors (green, yellow, orange) when it comes to immunity support. Red bell peppers have more vitamin C than most fruits and vegetables and are a good source of vitamin A, vitamin B6, folate, and vitamin E. One large red bell pepper contains around 350% DV of vitamin C, which is approximately three times more than an average orange and most citrus.
To benefit from a wide range of phytonutrients and antioxidants, create juicing recipes that combine a colorful array of fruits and vegetables. The colors often are clues to the various nutrients contained within.
"By empowering the immune system in anticipation of and during the cold season, you will give yourself and your family a fighting chance of getting out of this cold / flu season in good health," states David Lawrence of Juicing For Weight Loss ™, a website dedicated to juicing recipes for health and weight loss. To learn more about the benefits of juicing visit: http://www.juicingforweightloss.com