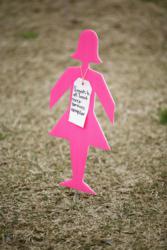 Getting care early is the best and most effective way to stop this cancer in its tracks.
Orange, CA (PRWEB) October 10, 2012
October is Breast Cancer Awareness month and it's a topic on everyone's mind. Pink here, pink there. Walking through your local grocery store, you'll notice that a once a blue Swiffer box is now pink. Because even businesses are changing their logos to pink in support of Breast Cancer Awareness.
The disease has taken its toll on 1 in 8 women in the world today, according to BreastCancer.org.
The statistics on the life altering disease are staggering:
In 2011, an estimated 230,480 new cases of invasive breast cancer were expected to be diagnosed in women in the U.S., along with 57,650 new cases of non-invasive (in situ) breast cancer.
About 2,140 new cases of invasive breast cancer were expected to be diagnosed in men in 2011. A man's lifetime risk of breast cancer is about 1 in 1,000.
In 2011, there were more than 2.6 million breast cancer survivors in the US.
But, the numbers are getting better. With preventative measures and aggressive treatments, fewer deaths occur from it, but it doesn't touch a woman without leaving its mark on her.
HealthCompare, a nationally recognized health insurance comparison site, urges women to have testing done early, especially if she has a history of the cancer in her family, but definitely if the history only goes back as far as her mother or sister.
But mammograms are costly, especially to the un- or under-insured.
And the health care system is aware of that and offers help in many states.
States like New York, Florida, New Hampshire, and Oregon are among the many states offering free mammograms during the month of October.
Getting care early is the best and most effective way to stop this cancer in its tracks. But that can't be done simply by doing self-exams in the shower once a month, a habit that all women should be in to help protect themselves from a disease that could rob them of a large part of their womanhood. It has to also come in the form of medical procedures that are costly and less-than-painless to say the least.
Yet, patients avoid this procedure like they avoid going to the autobody repair shop because of the money often involved and because of the discomfort.
HealthCompare wants patients to think past the monetary stretch that comes with having procedures like this done, as well as think beyond the few minutes of discomfort of sitting in difficult positions to have images taken.
Taking advantage of October's awareness campaign means women can, if they live in an area where they are offered, ease the financial burden by having free mammogram imaging done.
Many health insurance policies also cover this work, so if a woman has coverage, this month is an excellent time to take advantage of it.
To find a cheap health insurance policy that covers such procedures, visit HealthCompare.com today.
About
About Health Compare: HealthCompare was launched in 2009 to work with brokers and carriers to help individuals and families easily research, compare, buy, and enroll in the right health insurance plan at the right price. Based in Orange, Calif., it delivers accurate, customized, health insurance quotes for the country's diverse population.
Through a unique partnership with its sister company, CONEXIS, HealthCompare has the ability to quickly reach thousands of COBRA-qualifying consumers and provide them with COBRA alternatives at the moment they become eligible for COBRA benefits. This provides these consumers with an opportunity to enroll in individual or family plans and potentially save hundreds to thousands of dollars on COBRA premiums and, at the same time, rewards referring brokers with referral fee income for the life of each policy.
For more information, visit http://healthcompare.com/ or call 888.748.5152.