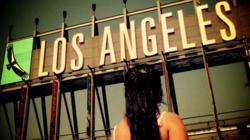 Los Angeles, CA (PRWEB) October 09, 2012
In its second year, On Location: The Los Angeles Video Project, presented by NewFilmmakers LA Film Festival, in partnership with the LA Tourism & Convention Board and LA Weekly, will feature remarkable, Los Angeles-inspired videos created by industry professionals, artists and students from around the globe. The event is taking place this October 20th 2012 at the AT&T Center in Downtown Los Angeles. The competition has enlisted these filmmakers to act as ambassadors of the City.
AT&T Center has played host to many high profile entertainment related events, such as the premiere of "House of Lies" featuring John Lawson, Ben Swartz, Don Cheadle, and Kristen Bell, and Spike Lee's "Passing Strange: the movie" during the 2009 Downtown LA Film Festival.
Tickets and more information for On Location The Los Angeles Video Project can be found at the website http://www.nfmla.org/onlocation
Finalists in competition include:
Dream of a Resident Tourist - (Dir. Shahriar Rahman) A lifelong tourist of LA, who also happens to be one of its residents, reflects with awe at his home city's harmony with nature.
A native of Bangladesh, Shahriar Rahman grew up in Saudi Arabia where he had more exposure to international cultures than to movies or television. Over the past several years, he's served as Chief of Production at International satellite channel STVUS.
Goodbye, I Love You - (Dir. Hernan Cazares) Best friends Alan and Marian are sitting in a diner in the wake of her departure. As they reminisce about times past, Alan is debating whether to tell her a secret or not.
Mexico native Hernan Cazares received a bachelors degree from Guadalajara's Centro de Arte Audiovisual school, and a Masters in Fine Arts from AFI, specializing in Directing. As an undergrad in Guadalajara, he directed his first two short films, "La Rosa" and "Sincronia". While attending AFI as a directing fellow, in 2011 he directed "Lucha" as his thesis short film project. Currently, he works with La Banda Films.
Within the City Limitless - (Dir. Carolfrances Likins) When children express to their parents the desire to travel the world, these working-class parents decide to give them the next best thing: a global tour of LA through the many ethnic communities.
Director Carolfrances Likins is also a member of the NewFilmmakers LA Film Festival.
I Heart Los Angeles - (Dir. Chanel Eakin & Dave Groseclose) Why do you love LA? We asked real people living in LA to tell us.
Directing duo Chanel Eakin and Dave Groseclose have worked together on an array of projects including music videos, commercials, and short films. Their latest short films include "Possibility" and "The Dinner Guest". Chanel Eakin is an editor at Wild Card AV, working on projects such as the trailer for "Crazy, Stupid, Love" (Steve Carell, Ryan Gosling, Emma Stone). Dave Groseclose is an editor/motion graphics artist for 180LA, and a music composer. His projects have included Mitsubishi commercials, and short videos powered by Sony and Intel.
LA-Highlighted - (Dir. Sevag Mahserejian) A montage of footage filmed throughout LA accompanied with spoken word that highlights LA for what it truly is: an entire world condensed into one city.
Mahserejian stars alongside David Hovan (FOX's "Alcatraz") in the upcoming indie feature "Toastmaster".
LA Moments - (Dir. Michael Malagon) This video exposes you to various moments happening around LA.
As a director and editor, Michael Malagon has worked on commercials for American Eagle and documentaries for Education First. Malagon also served as an editor on the documentary "Watch the Throne" starring musical heavyweights Kanye West and Jay Z.
LA NOIR - (Dir. Felix Martiz) LA has become a city of night, where the sun doesn't shine anymore. Our protagonist searches for daylight in hopes to smile again.
A graduate of Cal State Long Beach's film school, Felix Martiz's thesis, "La Paz" won the Cal Arts Rosebud Award for Best Student Short. His feature film, "Santiago", starring Romina Peniche ("From Prada to Nada", "Road to Juarez"), premiered at the Chicago Latino Film Festival, and has also screened at the Beaufort International Film Festival, where Martiz won the "Best Director" award, HBO New York Latino Film Festival, and internationally at the Monteria Film Festival in Columbia, among many others.
Liefs (With Love) - (Dir. Beri Shalmashi) Two immigrants in LA write letters home.
Dutch film director, screenwriter, columnist, and poet, Beri Shalmashi has written and directed several award winning films, including "Mama" which was nominated for Best Drama at the Netherlands Film Festival and the Golden Calf at the Dutch Film Festival. Shalmashi has adapted Kader Abdolah's bestseller, 'The House of the Mosque', which is set to be directed by Bahman Ghobadi ("Half Moon", winner of Best Screenplay at 2007 Tribeca Film Festival). De Geus, a renowned Dutch publishing house, will publish her debut novel in 2013. Dutch movie magazine Skrien Magazine has called Shalmashi one of the top ten young film talents.
Los Angeles - (Dir. Carlos Florez) Imaginative skateboard guy falls in love with teh city of LA, symbolized by a giant girl that is full of lights; she loves him back and illuminates his path so he can continue to explore the city.
EMMY award winner Carlos Florez (Outstanding Production Design and Art Direction for NBC Universal's Sunday Night Football) is a highly experienced director working with RED cameras and specializes in combining live action with VFX, Animation, and Motion Graphics. Florez has also received a number of paramount winner's awards from the San Diego International Film Festival, and Illinois International Film Festival. His music video, KINKY, has been number one on MTV3 and won a Best of Rock award, while his post-production project, T-Pain's "Can't Believe It" music video also reached number 1 on MTV's Jam of the Week and BET's 106 & Park. Carlos is also an alumni of the NewFilmmakers LA Film Festival.
Los Angeles: Find Yourself - (Dir. Gregory J.M. Kasunich) A young woman drifts through the neighborhoods, buildings, streets, and memories that comprise the city of LA as she searches for herself and something more.
Director Gregory J.M. Kasunich serves as a Lighting/FX/Comp Production Supervisor at DreamWorks Animation, and as a Creative Director at The Department of Light and Sound. His current work includes coordinating the upcoming "Norm of the North" starring Ken Jeong (The Hangover, Transformers: Dark of the Moon), Rob Schneider (Grown Ups, 50 First Dates), Zachary Gordon (Diary of a Wimpy Kid, Robot Chicken), and supervising the animated TV series Dragons: Riders of Berk starring Jay Baruchel (The Soercerer's Apprententice, How to Train Your Dragon), Chris Edgerly (The Simpsons), America Ferrera (The Good Wife, Ugly Betty).
Nightfall - (Dir. Colin Rich) A three-minute tour of light through LA.
Colin Rich, a native Angeleno, creatively uses the combination of light and movement to create his short, which became an internet phenomenon. Rich's work has previously received reviews from The Huffington Post, CBS News, The Los Angeles Times, National Geographic, LA Observed, and many more. During an interview with Sam Allen of the Los Angeles Times, Rich says, "If you want a good shot, you always have to keep pushing".
An LA Story - (Dir. Jeffrey Sun) Two friends visit LA and experience the unbelievable adventure of a lifetime.
Destination Los Angeles - (Dir. Brandon Valiente) A guy and a girl separately tour LA landmarks on their first visit and meet at the Griffith Park Observatory where they fall in love.
HELLO LA - (Dir. Kiana Wilson) A look into the life of three performers whose talents blossom in the city that gives life to their ultimate LA dream.
How to Live in LA - (Dir. Cameron Sperling) An old fashion 'How To" guide showing little Jimmy how to make it in LA.
I am LA - (Dir. Bryce Dicristofalo) LA is personified by a voice that tells a story of the wonders of this great city.
I Love LA - (Dir. Steven Biton & Julius Hudson) Exploring the pleasures of culture, style, entertainment, and excellence found in LA.
LA Encounter - (Dir. Amy Hung and Man Lin) A portrait of an extraordinary city located in the heart of Southern California.
Sarah - (Dir. Leor Baum) A young woman searches the city for an old dream.
Scavenger - (Dir. Ruddy Anthony Salazar) After returning from a trip Ruddy must travel throughout LA to complete his scavenger hunt.
So What's the Plan for Tonight? - (Dir. Daniel Zafran) Three friends in different parents of the city try to communicate the nights plans to each other.
Whatcha Wanna Do? - (Dir. Tim Cardenas) A group of friends explore their options for a day of fun in beautiful LA!
Tickets for On Location are now available. To purchase tickets, please visit http://www.nfmla.org/onlocation
About NewFilmmakers Los Angeles
NewFilmmakers LA Film Festival is a non-profit 501(c)3 providing the LA community of entertainment professionals and film goers with a steady, exciting line-up of monthly screening events. NewFilmmakers continues to provide a forum where filmmakers can be recognized for their contributions, host open audience discussions about their projects, and connect with industry professionals for insight on distribution, production, acquisition, and representation.