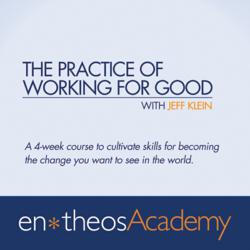 "Jeff Klein, one of the earliest champions of Conscious Capitalism, offers a highly practical yet profoundly intuitive blueprint for achieving your purpose—and making a difference at work."
San Rafael, CA (PRWEB) October 11, 2012
Times they are a changin. One of the most significant developments of the 21st century is the accelerating emergence of Conscious Capitalism®.
As 160 CEOs convene in Austin, Texas for the 6th Annual Conscious Capitalism CEO Summit, Working for Good announces the launch of The Practice of Working for Good, a four-week telecourse designed and facilitated by Jeff Klein, CEO of Working for Good, beginning Monday October 15, 2012. The course will focus on developing the core skills of Working for Good - Awareness, Embodiment, Connection, Collaboration and Integration. The class convenes three times per week for twenty minutes each session. The course is presented by The en*theos Academy.
20-minute sessions will convene Mondays, Wednesdays and Fridays 7:00 AM PT / 10:00 AM ET from Monday October 15th until Friday November 9th, 2012.
The course is designed for entrepreneurs, business leaders, MBA students, change agents/intrapreneurs, social entrepreneurs, and anyone who wants to understand and actively participate in the emerging transformation of business, for good.
For more information about The Practice of Working for Good, visit http://www.entheos.com/academy/courses/The-Practice-of-Working-for-Good
About Working for Good: Working for Good exists to foster human flourishing. Based on the belief that business is a powerful force for good, Working for Good collaborates with clients to build good businesses, through Conscious Culture development programs and Stakeholder Engagement Marketing™ campaigns. Working for Good Publications and Courses provide insights into and tools for embodying the principles of Conscious Capitalism and the practice of Working for Good.
About Jeff Klein: Jeff serves as Activator, Author, Producer & Process Facilitator for Working for Good. He is a trustee and member of the executive team of Conscious Capitalism, Inc. and producer of Conscious Capitalism events, including an annual CEO Summit. He authored the award-winning book, Working for Good: Making a Difference While Making a Living, hosts a weekly radio program entitled It's Just Good Business. Jeff also serves as Executive Director of BeingHuman.org, a project of the Baumann Foundation, and serves as executive producer of Being Human events.
About Conscious Capitalism®: Conscious Capitalism is an idea, a movement, an approach to conducting business and an organization (Conscious Capitalism, Inc) dedicated to advancing all of these