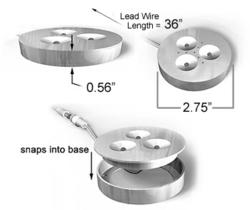 (PRWEB) October 08, 2012
FirstenLED is offering professional LED cabinet lighting fixtures at affordable prices as well as other high quality LED based lighting and accessories.
FirstenLED has established itself as a company who delivers quality LED lighting solutions. The quality of the products they offer is on par with industry standards, offering a wide range of products mainly manufactured in China. When it comes to diversity, the company has been known to always have a wide range of lighting solutions to suit everybody's needs. On their online platform, you can find a multitude of LED under cabinet lighting solutions, each tailored to serve its purpose in the best possible manner.
The distributor is always looking at the market and has developed a keen sense of what the newest technologies are, what the market demands, thus, being able to always come to the aid of its customers with practical LED cabinet lighting amongst other types of products.
The lighting products will always answer all kinds of demands and necessities, for different client specifications. Both household clients, as well as companies can count on the products of FirstenLED to deliver quality but most importantly, great prices. Some products are specifically intended for household use and include the LED puck lights, which can illuminate any corner of your home, creating a nice, very interesting ambient. Another advantage of such lighting solutions is that they consume a small fraction of the power normally used by other lighting fixtures and, furthermore, they do not emit any heat. Thus, they can be used in confined, unventilated spaces, and they can be left on without worrying about the electricity bill.
The LED cabinet lights are a favorite of many customers, since they come with very efficient LED drivers and have also been show to have a very small low light decay ratio. In terms of length of life there aren't many companies that sell better products at the same price, so without a doubt, a visit to http://www.firstenled.com is a must if one is on the market for a great lighting solution.