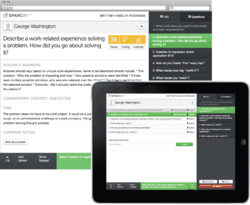 We came to the realization that quality interviews are not linear conversations. Effective interviews don't just go straight down a checklist of questions.
Charleston, SC (PRWEB) October 08, 2012
SPARC's interview management system, SPARCIN, announced today the launch of its Live Interview application at the HR Technology Conference & Exhibition in Chicago. This first-of-its-kind application is specifically designed to support an interviewer on a mobile or desktop device in real-time while conducting a candidate interview.
SPARCIN's Live Interview is friendly to all modern browsers and devices, with features that support an interviewer's time and content management during an actual interview. The basic layout shows high-level candidate information, the current question with suggested answers, user ratings, notes, and a queue of upcoming questions. With the tap of a finger, interviewers can add, delete, or swap questions based on the direction and natural flow of the conservation.
The flexibility of the interface facilitates a better interview experience for both the interviewer and the candidate. "Live Interview is designed to be responsive and adapts to any modern browser both on desktop and mobile devices, allowing a user to access it features in a manner comfortable to the resolution of their device," explained Prashant Katwa, Senior UI Designer at SPARC.
"We are extremely proud to bring Live Interview to market and excited to demo this capability to thousands of HR industry leaders. SPARCIN is fully geared to support your interview process, and Live Interview is a perfect example of that. The app allows you, as the interviewer, to focus on the candidate, while providing the tools you need to optimize your interview. It is an interviewing game changer," said Jake Benardot, SPARCIN Co-founder and Product Owner.
"We came to the realization that quality interviews are not linear conversations. Effective interviews don't just go straight down a checklist of questions. Interviews follow twists and turns, questions lead to follow up questions, and whole new areas of interest are often uncovered. Live Interview provides a way for interviewers to follow the natural progression of the conversation while continuously adding context and simultaneously ensuring that key topics and concepts are addressed," explained Patrick Hutchinson, SPARCIN Co-founder and Lead Developer.
Live Interview is available to standard and expertise customers as part of their existing plans. SPARCIN will continue to add new features in the upcoming months, including enhanced Contributor roles.
SPARC is one of more than 200 companies exhibiting at the HR Technology Conference & Exhibition. Their conference debut showcases multiple human resources products which have been developed since their entry into the field earlier this year.
Build a better interview at SPARCIN.com with a free 60-day trial.
About SPARCIN
SPARCIN is an interview management system that delivers interviewers the tools to get the right people in their organization. SPARCIN combines a smart crowdsourced question pool, intelligent interview builder, and automated feedback tools to revolutionize the interview experience. Build a better interviews with SPARCIN.
About SPARC
SPARC is a software development company creating engaging, forward-thinking technology while putting customers, employees, partners, and the community first. With offices in Charleston, South Carolina and Washington, D.C., SPARC provides software development services for the government, federal, and commercial sectors, and develops commercial software products for the executive leadership, human resources, green energy, analytics, and mobile markets. Come by for a tour and see SPARC's award-winning culture for yourself, or learn more at SPARCedge.com.