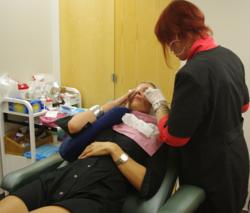 What woman wouldn't want her eyes to pop and also enjoy added confidence and freedom from messy makeup or poking herself in the eye with a pencil?
Phoenix, AZ (PRWEB) October 08, 2012
Is it really spying if the public is invited to watch? Is it even considered a leak when the beauty expert at the center of the story releases her own secrets for maximizing a woman's eye color? Viewers can decide when they tune in to see the permanent eyeliner cosmetic tattooing procedure by expert artist, Sally Hayes unfold, uncut as it happens on her YouTube Channel.
"This video might appear different than the recent live eyebrow tattoo and permanent lip makeup procedures we've done," admits Hayes, whose 2 videos have attracted nearly 20,000 YouTube views in the past month. "The person having the procedure will keep one eye closed while I focus on the other, and she'll be looking up at her brain while I work on applying pigment to enhance the area of her eyeliner."
Speaking of brains, watching Hayes work is smart for women exploring permanent makeup (also known as permanent cosmetics or micropigmentation) as a time and effort saving solution for improving their facial appearance. Having successfully performed tens of thousands of procedures since the 1980's, she has the unique blend of skills and experience which shows just how easy it can be for a woman to get her eyes to sparkle using Hayes' customized technique for maximizing the lash line. This creates natural-looking results which bring out the colors of a woman's eyes but won't smudge, smear, or rub-off on her face multiple times a day.
"By inviting women inside to see exactly how I do this procedure I hope they do more than just watch," says Hayes. "I hope they see it offers a quick and long-lasting way to remove a tired look and replace it with facial symmetry for a fresher, more vibrant and youthful image in the mirror and to others. I'll be sharing the proven reasons why I like to look at the eyes of my clients as a unit. There truly are many benefits to enjoy from enhancing the appearance of your eyebrows, eyeliner, and eyelashes. What woman wouldn't want her eyes to pop and also enjoy added confidence and freedom from messy makeup or poking herself in the eye with a pencil?
About Sally Hayes Permanent Makeup
The unparalleled skills and experience of Sally Hayes have earned her referrals and recommendations from many of the leading plastic surgeons across the country. She specializes in natural-looking enhancements of a woman's facial appearance through the cosmetic tattooing techniques she blends with skin tone. Through a variety of procedures including permanent eyeliner, such as eyebrow tattoos, permanent lip makeup, and cosmetic camouflage for areolas and facelift scars, she helps women with cosmetic solutions from her offices in Scottsdale, AZ, New York, NY, and Los Angeles, CA, and Las Vegas, NV.
For more information, visit http://www.permanentmakeup.com.
Contact Information:
Sally Hayes Permanent Makeup
10201 N. Scottsdale Road
# 20 (inside Salon Studios)
Scottsdale, AZ 85253
(480) 951-0539