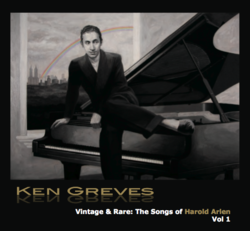 Producing this CD and singing vocals on it was a bit of a roller coaster ride; but, with these fine musicians backing me and the Arlen tunes driving me, it was a joyous trip! ~ Ken Greves
New York, NY (PRWEB) October 15, 2012
After a lifetime of professional theater performances, as a dancer, actor and singer, Ken Greves went on a mission to answer the call in his heart to record a tribute album to Harold Arlen. It is comprised of songs both well-known and rare, from Broadway, Hollywood and Tin Pan Alley, and explores the many facets of Arlen's extraordinary contribution to the Great American Songbook. The musicians on this project are Wells Hanley, piano; Peter Donovan, bass; and Jacob Melchior, drums.
Although Greves has come to be a troubadour, courtesy of his first album, he appears to have broadened the scope of his vocal emotions, expressing joy and comedy just as brilliantly as he does songs of love and hurt. His greatest strength, however, is one that would have please Harold Arlen immensely and that is his ability to tell a story. Greves now approaches one of the major figures in American music to re-interpret a massive amount of Arlen's work. This might seem foolishly ambitious, but perhaps not quite so. There is some sort of powerful union between the two. Raul d'Gama, Editior: http://latinjazznet.com and http://theworldmusicreport.com.
"I remember after the first release of Ken's last CD "The Face of My Love", we did a sneak peek to his next CD", he was serious about having his fans become a part of his journey and set out to do a crowd funding effort toward this project. We are very happy for him that his dream came true with his new release. Ken brings a full-heart to his musical expression and you can sense how his background lends itself beautifully to Harold Arlen's music" says Jaijai Jackson, creator of The Jazz Network Worldwide social network.
There have been two release parties Oct 4th & 8th at Something Jazz Club in New York City that were a highly-spirited success as well as two more on the horizon November 9th & 11th at The Laurie Beechman Theater on 407 West 42nd Street, in New York City.
Greves, already has his next project for 2013 swirling around in thought recalling the classic 50's concept albums on Capitol Records. A continued effort to bring a collection of song stylings capturing moods of sophistication, wit and heartbreak from such an era.
To learn more and to purchase Ken Greves CD "Vintage & Rare: The Songs of Harold Arlen Volume One" go to http://www.kengreves.com as well as, http://www.cdbaby.com/cd/kengreves2, itunes or Amazon. Be sure to go enjoy Ken's feature on The Jazz Network Worldwide at http://www.thejazznetworkworldwide.com. To subscribe to Ken's blog go to http://www.jazzcatblog.com.