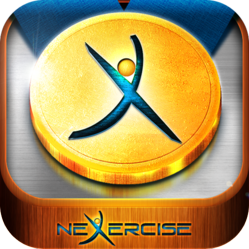 The group of veterans who participated were VERY impressed with the program.
Washington, DC (PRWEB) October 09, 2012
The founders of Nexercise and creators of it's effective weight loss app have been selected for a brand new entrepreneurial program focused on developing 40 startup technology entrepreneurs from underrepresented demographic groups. The "Rising Stars" program, created by world-renowned startup accelerator, TechStars is, "a highly selective entrepreneurship mentoring program that pairs individual high quality underrepresented entrepreneurs with individual TechStars alumni to help them develop the entrepreneur's vision into a viable company." TechStars "underrepresented" groups include veterans, minorities, and women.
"We are really excited to see TechStars taking an interest in expanding the reach of entrepreneurship," says Nexercise co-founder Greg Coleman, who took part in a three-day, veteran focused, TechStars program hosted at Georgetown University this summer. "The group of veterans that participated was VERY impressed with the program and the TechStars team was equally impressed with the quality and caliber of the veteran participants," Coleman continued. It was an eye-opening experience for all.
The Rising Stars program is designed to pair participants with mentors who will help the entrepreneurs develop their vision into a viable companies. Through monthly meetings, the mentors will advise the entrepreneurs in various phases of the business with the ultimate goal of making the companies competitive to apply for the full, three-month TechStars program. Entrance into the three-month accelerator program is not a guarantee of success, but is the equivalent of putting rocket fuel in the tanks.
Background:
Through its free app, Nexercise motivates people to lose weight, get more fit, and finally be consistent in their exercise behaviors. It is available on the Apple App Store and Google Play and is one of the top rated health and fitness apps in both (4.5 of 5.0 stars). Through physical activity users stay in touch with friends, earn rewards, track progress, and defeat challenges. Nexercise is headquartered in Silver Spring, Maryland
TechStars is the #1 startup accelerator in the world and offers three month, immersive programs focused on developing technology startups in Boston, Boulder, New York City, Seattle, and San Antonio. It provides seed funding from over 75 top venture capital firms and angel investors who are vested in the success of startups, as well as intense mentorship from hundreds of the best entrepreneurs in the world. Participating companies average over $1M in outside venture capital raised after leaving TechStars.
The latest version of the Nexercise app is available now for iPhone in the Apple App Store at:
http://itunes.apple.com/us/app/nexercise/id417348701 and for Android in Google Play at:
https://play.google.com/store/apps/details?id=com.nexercise.client.android