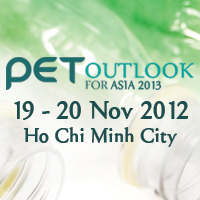 Leading multinationals are taking on major participating roles in the PET Outlook Asia for 2013 forum organised by Centre for Management Technology
Ho Chi Minh City (PRWEB) October 10, 2012
Leading multinationals are taking on major participating roles in the PET Outlook Asia for 2013 forum organised by Centre for Management Technology to deliver a broad overview on the implications of growing PET capacities, Asia's producers chance to export out of the region, new emerging markets and growing interest in rPET.
Martua Sianipar, Rigid Packaging Quality and Development Expert at Dynaplast will make a presentation entitled 'Indonesia – PET Packaging Growth & Hot-fill Production Systems for Tea & Juice Market' while expert from Ngoc Nghia Group will deliver an overview of the PET outlook in the region, at the annual meet on 19- 21 November 2012 in Ho Chi Minh City.
Zooming in on 'Innovations in Polyester Fibre Resin and applications in Asia including update on New PET plant in China' and 'Japan – Opportunities for PET barrier resins in a sophisticated and developed market' are Y.J. Lou, Senior VP - Fiber Business Operation Center from Far Eastern New Century Corp and Yusuke Hikichi, Sales Manager at Iwatani. Further, David Swift, Managing Director of PCI PET Packaging Resin & Recycling Ltd will share his views on the topic of 'Looming Global Capacity Surplus; Can producers in Asia Survive the Crisis'. The forum, specially structured to provide PET resin producers, feedstock suppliers, preform producers, technology providers and other associated industries a comprehensive outlook of the markets for the coming year will also host authorities from Toyota Tsusho, Nextek, Erema, Sekisui Plastics and Suntory each delivering sessions on bio-PET, rPET quality and packaging material, reducing risks involved in PET recycling, and sustainable packaging initiatives.
In line with dual themes on "Growth of global capacities and impact on Asia" and "Increasing hot fill applications and specificities on PET packaging for milk, RTD tea, juice", Platts, M&G Group, SABIC Innovative Plastics, Holland Colors and Sidel will be sharing reviews on pricing, PET applications, technology advancements and more.
To complement the sessions at PET Outlook Asia for 2013, the conference features two separately bookable site visits to Ngoc Nghia Preform Production Facility on 20 November 2012 and TTA Green RPET recycling facility on 21 November 2012.
Details of the event and the conference agenda can be obtained at the website http://www.cmtevents.com/aboutevent.aspx?ev=121128& . Or one may contact Ms. Hafizah at Tel. 65 6346 9218 for further queries.