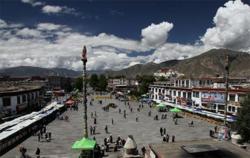 Lhasa, Tibet (PRWEB) October 09, 2012
Songtsan Travel, a Tibetan-run tour organization, launched a new website to help clients arrange Tibet tours. The site highlights the organization's focus on promoting local Tibetan businesses, providing quality service to western clients, and promoting children's education in Tibet.
"Our team is always trying their best to establish a reliable, thorough, sincere and intimate relationship with clients," Songtsan Travel said. "We work hard to give our visitors an unforgettable "Tibet experience" and this is why many travelers come back to visit Tibet with us or refer us to their families and friends."
The site offers descriptions of trips to Tibet and Nepal, including all of the most popular destinations. The agency features cultural tours, trekking, bicycle tours, private tours, train tours and special travel packages. Customers can also tailor-make their own trips by working with the organizers through the website.
"Our tours are designed to introduce the unique culture and history of Tibet in as convenient and comfortable a way as possible," Songtsan Travel said. "As we are a Tibetan company, travelers will always have a Tibetan guide to show them the 'behind the scenes' side of Tibetan life, and open cultural doors that non-Tibetans cannot."
Songtsan Travel donates money to support children's education, and travelers can arrange to visit their sponsored school.
"We believe the purpose of education is to promote a better person, nice human being. Our vision is a great public education for every student. Educating our hearts and minds to change self the world.
There is also pertinent travel information listed on the site, along with testimonials from former clients and a photo gallery. The site contains biographies of the primary tour operators, and contact information for clients to make travel arrangements.
Songtsan Travel is a Lhasa-based tour operator with more than 20 years of experience leading Tibet tours. The agency uses part of its proceeds to provide education to disadvantaged children. Songtsan Travel seeks to promote Tibetan culture and help Tibetans improve their livelihood.