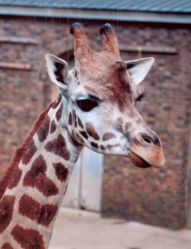 Ellish demonstrates some of the characteristics we identified when we were looking to incorporate an animal into the formations process.
London (PRWEB UK) 9 October 2012
London (09/10/12): Since Wisteria Formations was founded in 2009; the quirky giraffe has been the patron animal for the company, helpfully suggesting tips and guiding clients through their online ltd company formations process. The giraffe on the Wisteria Formations website aids clients with their choice of company name, appointment of directors, choice of company secretary, allocation of shares, choice of registered office, business bank account and with any additional requirements or queries new company owners may have, providing answers and pointing users in the right direction. This is all done with the animated giraffe on the site.
For the past 10 years, Wisteria Ltd, the London based firm of Chartered Accountants, has regularly sponsored clients in their charitable endeavours, but also committed to green policies where possible, including recycling in their London offices and encouraging visitors to their office to use public transport rather than the car. Wisteria's latest charitable endeavour revolves around the adoption of a giraffe at the Zoological Society of London (ZSL).
Andrew Millet, Chartered Accountant and founder of Wisteria Limited in 2002, comments "Giraffes have a particularly unique view on life and their ability to see challenges early is the reason we selected them as our animated helper on the site. I am now pleased that we have had the opportunity to support the giraffe through this sponsorship opportunity."
At least six distinct species of giraffe may be in existence; however American and Kenyan scientists have since discovered that a number of these species are critically endangered. Poaching of the reticulated giraffe in the 1990s reduced numbers from 27,000 to just 3,000, the reticulated giraffe in now the most threatened species.
Consequently, the choice of ZSL as the home of Wisteria's new giraffe was an obvious one, due to Wisteria's location as a firm of London Chartered Accountants, ZSL's history and their contribution to worldwide animal protection. Founded in 1826, ZSL are now involved in more than 50 field conservation projects worldwide. Further to this, ZSL is home to a number of legendary animals, such as Winnie the bear. Winnie was visited by A.A. Milne along with her son Christopher, which eventually led to the creation of her famous bear Winnie.
The Wisteria giraffe Ellish is only four years old, she is very headstrong and sometimes stubborn. Ellish is also quite cheeky and mischievous. Ellish has now become a celebrity in her own right at London Zoo, crowds are often queuing to catch a glimpse of her. You will find a photograph of Ellish, posing for the camera and rather enjoying the attention:
The Chartered Tax Adviser and partner of Wisteria Chartered Accountants, Nick Tagg, remarks that "Giraffes have been a key marketing instrument for Wisteria throughout the years and I think Ellish demonstrates some of the characteristics we identified when we were looking to incorporate an animal into the formations process. We are proud of now being part of the Zoological Society of London's legacy – long may it continue!"
For more information in relation to company formations and professional services from Wisteria Formations, please visit http://www.wisteriaformations.co.uk
About Wisteria Formations:
Wisteria Formations is a leading online company formation agent, backed by Wisteria Chartered Accountants. Wisteria Formations provides fast and simple company formations for only £24.99. With everything set up online, you could have a limited company set up within 24 hours. In addition, Wisteria Formations offers registered office and professional company secretarial services. Please note that Wisteria Formations does comply with the Money Laundering Regulations and therefore clients are asked to provide the relevant evidence prior to submission to Companies House.