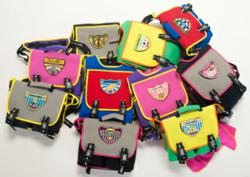 San Mateo, CA (PRWEB) October 09, 2012
SuperME, an innovative new line of fun and functional bags for children, is attending at two major trade shows in October. They will be exhibiting their cool backpacks and cute lunch bags at the ABC Kids Expo in Louisville, KY October 14-17, 2012, and at the ENK Children's Club in New York, NY October 21-23, 2012.
SuperME's line of superhero cape backpacks; convertible messenger-style bags and interchangeable patches will be shown at both shows by co-founders Daphne Kaufer and Rena Stern
SuperME's cape backpacks and messenger-style bags let children express their inner superhero with the fun of superhero dress-up. The superhero cape backpacks feature a built-in superhero cape and come with a matching eye mask. The kids messenger bags feature a removable strap, which converts into a superhero utility belt. And since every superhero needs a superhero symbol, SuperME bags have interchangeable superhero symbols in the form of Velcro patches to celebrate children's various and rapidly changing interests- from sports to pirates and glow-in-the-dark skull and crossbones perfect for Halloween. SuperME's entire line can be seen at http://www.supermehero.com
ABC Kids Expo is a private trade show for the juvenile products industry and is not open to the general public. It is the premier juvenile products specialty show in the world.
ENK Children's Club is a premier trade show with an eclectic blend of new and existing designers catering to the medium to better children's specialty and boutique retailers.
If you are interested in scheduling time with SuperME at either show, please contact Rena Stern at rena(at)supermehero(dot)com or 866-787-3710.
About SuperME
SuperME is a San Francisco based company created by two Super moms: Daphne Kaufer and Rena Stern. The inspiration for SuperME came from their children, who love dressing up and carrying their own bags to school, parks, day trips, and vacations. Their goal for SuperME was to create a line of functional products that are fun to play with and reflected the uniqueness of each child.