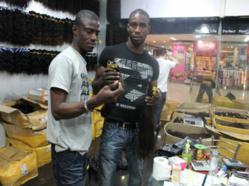 The price there is always 40% lower than those from other suppliers.
(PRWEB) October 08, 2012
With the Halloween's coming, Rosyhair.com, a leading Indian Remy Hair & Brazilian Hair Weave online shop, is launching a hair weave promotion from Oct. 1 to Oct. 30, 2012. All the old and new customers for Indian Remy hair weave, Brazilian hair weave and virgin Malaysian hair weave can get a discount now, up to 55% off.
Mr. Bernd, CEO of Rosyhair.com, said, "Now, we offer more choices to customers with a big discount, up to 55% off. It is time to shop for a hair weave at Rosyhair.com. When customers visit our website, they can find many choices there. All the products on our website are virgin grade and high quality, which means they have not been chemically processed, and all the cuticles go in one direction to prevent tangling. So, customers can handle and clean the hair easily and conveniently."
Mr. Bernd continued, "Many customers like Brazilian hair weaves and Indian Remy hair weaves because they beautiful and unprocessed, and they can last longer than others. We always provide different styles of Brazilian hair weaves, Indian Remy hair weaves, Peruvian hair extensions and Malaysian hair extensions at acceptable low prices. "
"I ordered a Virgin Brazilian Hair Weave for myself at Rosyhair.com, and I got the shipment on time. I was so surprised that the quality is perfect, and the Hair Weave makes me energetic." Tina, a customer from New York, said, "What is important is that the price there is always 40% lower than those from other suppliers. I will come back soon and recommend this website to all my friends. Thank you very much!"
Mr. Bernd emphasized, "If you plan to buy hair weave extensions, you should not miss this great chance to purchase a favorite and a suitable hair extension for yourself or your friends. However, please don't forget to leave your correct contact details when you order, we don't want to send our product to a wrong address at all."
About Rosyhair.com
Founded in 1985, Rosyhair.com is dedicated to bringing hair fashions to a new level of choice and sophistication. Rosyhair.com has proudly grown to be the number-one hair resource in the hair fashion industry and have become known as "the best place to find perfect hair extensions".
For more information, please visit: http://www.rosyhair.com