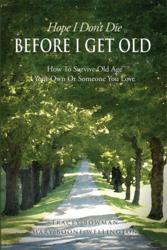 This book is the guide I wished I'd had as my parents began to need care
Whitefield, New Hampshire (PRWEB) October 09, 2012
Meet the authors of "Hope I Don't Die Before I Get Old: How to Survive Old Age, Your Own or Someone You Love" at a book launch and signing event October 18th at GK Framing 169 Hudson Street, NY, NY from 6-9PM. More information at http://www.BeforeIGetOld.com.
Speaking about the surprising twists and turns in caregiving, Bowman and Wellington bring a light touch and a wealth of information on effective care today. More and more people struggle to balance their lives while caring for elders, facing challenges of long distance caregiving, strife with siblings and spotty insurance coverage. Boomers and never thought they would be caring for aging parents while still supporting grown children and extending careers to pay for their own old age.
Solution oriented, this book tells stories from the front lines as the authors juggle professional lives and care of their children and parents, while attempting to remain sane and productive.
Humor and network of support carried the authors through their own caregiving journeys and inspired them to share their discoveries in this new book which is as fun to read as it is helpful.
Surprising solutions to caregiving questions from the book will be addressed in person at the New York launch of the book:

Is moving a loved one into your own home always the best solution?
Promoted as the most affordable and caring solution, this is often a well intentioned disaster.
Isn't an old age home depressing?
Moving into an independent living apartment can be a life affirming experience if the services provided are a good match for the needs of the elder.
I'm afraid my mom will fall–she won't use her walker.
Falls are the leading cause of accidental death in people over 65. Strength training exercise is the key to building muscle and balance to prevent falls and can be undertaken by people of all ages and ability levels.
I worry that my parents aren't getting the right nourishment–they seem to eat what is easy, rather than what is nutritious.
Perhaps there is a deeper cause for your parents dietary choices. Dental hygiene can take a turn for the worse when people age and often contributes to malnutrition in the elderly.
How do I get my Dad to stop driving?
"Driving While Old" is both a good and bad idea. This is a conversation that takes time, it is a good idea to start talking about it well before you really need to take action.
Answers to these and many more questions about caring for an aging loved one are answered in the book which is available now from the authors web site http://www.BeforeIGetOld.com.