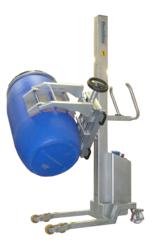 The stainless steel barrel lifter with manual rotation is the ideal solution to increase efficiency and improve health and safety conditions.
(PRWEB) October 10, 2012
The new stainless steel barrel lifter with full rotation, is used for gripping loads by the diameter or circumference such as barrels or drums, and rotating to any position through 360 degrees. Constructed from stainless steel, this lifting solution is suitable for clean room environments.

Safe working load 205kg
Fitted with rubber pads to provide maximum grip and assist alignment
Manual rotation with index pins to secure at 90 degree intervals
Suitable for load diameters of up to 650mm as standard
Built in slip torque mechanism to ensure correct gripping pressure is applied preventing over tightening and damage to load
Full range of bespoke attachments available
This stainless steel lifter, when fitted with the barrel lifting attachment, can be used to handle a wide range of barrel types and sizes.
The barrel lifting attachment has been designed to grip barrels by the circumference and rotate to any position through 360° degrees.
Packline's range of barrel lifting attachments is fully interchangeable and can be easily fixed or removed from any model of lifter; ideal for the food, medical and pharmaceutical industries.
Packline Materials Handling has been designing and manufacturing lifting and handling equipment since 1993. The 'Compac' range of stainless steel materials handling equipment has established Packline as a leading supplier of quality roll and drum handling equipment for the food, drinks, dairy, pharmaceutical and medical processing industries worldwide.
Packline Materials Handling are able to provide bespoke lifting and handling solutions for materials handling issues involving rolls, reels and drums; by creating new concepts or tailoring existing lifting and handling equipment to meet specific requirements.
Ideally suited for clean room environments, the stainless steel 'Compac' range of roll, reel and drum handling equipment from Packline Materials Handling, is proving to be a winner with customers worldwide operating in the following industries:
Food
Drinks and Beverages
Dairy
Pharmaceutical
Medical Processing
Chemical
The purpose-designed compact framework, positioning of handlebars and addition of an optional remote control device provide improved maneuverability and ease of use for the operator.
The incredibly small footprint makes the 'Compac' roll and drum handling equipment highly maneuverable and a natural choice for today's narrow production lines and demanding lifting requirements.
For further information on stainless steel barrel handling, or the full range of lifting and handling equipment, please contact Packline Materials Handling on +44 (0)1202 307700 or visit http://www.packline.co.uk
Packline Ltd
Unit 28
Newtown Business Park
Ringwood Road
Poole, Dorset
BH12 3LL, UK
USA Distributor:
Ultrasource USA LLC
1414 West 29th Street
Kansas City, MO 64108-3604
(O): 816.360.2034 | Ext 2034
http://www.ultrasourceusa.com/
For a full list of worldwide distributors please visit Packline's website.
Packline Materials Handling…providing the solution.