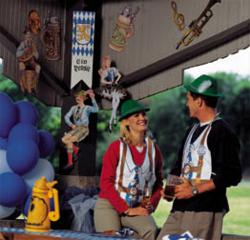 South Whitley, IN (PRWEB) October 08, 2012
Shindigz has searched the United States to find best four, Oktoberfest celebrations in October. The centuries-old original festival is held in Munich, Germany, but there are copy-cat festivals held all over North America each year.
"Although they aren't the original, these festivals offer just as much fun and were chosen for their festive, German décor and activities," explains Keith Bansemer, Shindigz Director of Internet Marketing.
Twin Cities Oktoberfest (Minneapolis, MN)
The Twin Cities hosts a large festival in the Progress Building on the Minnesota State Fairgrounds on October 5 – 6, 2012. There will be beer, brats, snacks, and performances. For those who don't drink beer, wine form Pedroncelli is an option that is provided. While enjoying the food, drinks, and German spirit, bands such as The Jolly Huntsmen Band and The Squires Band perform German music.
ArtsQuest Oktoberfest (Bethlehem, PA)
During the weekends of Oct 5-7 and Oct 12-14, 2012, visitors will experience an authentic German Oktoberfest with highlights from Pennsylvania culture. The ArtsQuest event boasts a 100-foot by 240-foot Yuengling Festhalle tent serving German food and beer, while featuring polka, rock and party bands.
Soulard Oktoberfest (St. Louis, MO)
St. Louis' Soulard Oktoberfest is one for competitors. The October 12-14, 2012 festival is home to a brat-eating contest, beer stein-holding competition, drinking contest and even a beauty pageant. Since the theme of Oktoberfest centers around beer, it only makes sense that this festival is held across the street from the original Anheuser-Busch Brewery. True partiers can even purchase VIP passes which give them endless beer and wine and exclusive access to VIP tents.
Tulsa Oktoberfest (Tulsa, OK)
The Tulsa Oktoberfest has earned the reputation as one of the best in the nation. This year, the festival offers more vendors than in past years and runs October 18 – 21, 2012. Attendees eat bratwursts, dance, drink German beer, and watch the wiener dog races. In its 34 year history, Tulsa Oktoberfest has donated almost $1,000,000 to Tulsa's River Parks Authority as a part of the Tulsa Oktoberfest mission to improve Tulsa and River Parks.
About Shindigz
Throw your own German party at home throughout October with Oktoberfest party supplies from Shindigz. Since 1926, Shindigz has "made life more fun" for 22 million events through the manufacture and sale of personalized party supplies. It ships products from its facilities in South Whitley, Indiana across the United States, and around the world to 59 countries. With more than 36,000 products, the company provides customers with a complete party solution. For more information about Shindigz, go to http://www.shindigz.com.
Sources:
http://travel.usatoday.com/destinations/10great/2010-09-09-north-america-oktoberfest_N.htm
http://www.artsquest.org/festivals/oktoberfest/