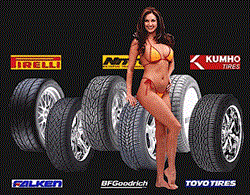 Roanoke, VA (PRWEB) October 10, 2012
Tires are the cushion between your vehicle and the road. Inflation is a big part of tire performance. Most new cars come equipped with Tire Pressure Monitoring Sensors (tpms) but all vehicle owners should check their tire pressure on a monthly basis to be sure of the smoothest and safest ride possible. Recommended tire pressures for individual vehicles are listed on the inside of the door.
Tire tread depth should also be checked periodically to make sure that your tires have the maximum grip for safer winter driving. A safe tread depth can reduce the risk of blowouts, flat tires, and accidents. It is recommended that consumers purchase new tires if the tread depth reaches a measurement of 4/32" deep.
Consumers that find themselves in need of newer, safer tires can sometimes be deterred by the upfront cost of replacing all four tires. Luckily, Rimfinancing.com offers a full selection of some of the highest quality tires on the market, and replacement tire financing options (insert link here) are available at affordable monthly payments.
The rim and tire fitment specialists at Patriot's Custom Wheels and Rimfinancing.com help their clients find the correct replacement tires for their individual tire needs. Having over 25 years combined experience in the rim and tire industry help customers feel secure that they will receive a quality tire and great customer service.
As the weather cools and snow and ice move in, consumers can quit worrying about where the cash is going to come from to get that full set of replacement tires. Rimfinancing.com offers tire financing (insert link here) for sedans, coupes, trucks, vans, and SUVs. They have an extensive collection of Off-road tires as well, for folks living in the higher elevations.
Vehicle owners are reminded to always keep an eye on their tire pressure as well as their tread depth, and to replace the tires as soon as they begin to show significant wear to maximize safety on the roadways.
Rimfinancing.com
(888) 852-2455
http://www.rimfinancing.com