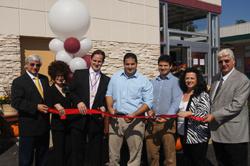 "We strive to bring the best products to all of our locations..."
Westchester, N.Y. (PRWEB) October 08, 2012
DeCicco Family Markets, a second generation grocery chain with locations in Westchester and Putnam Counties, proudly opened its ninth location on October 5. The store, located on Halstead Avenue in Harrison, replaced the Food City that had operated at that location for 25 years. The grand opening featured both generations of the DeCicco family as well as Ron Belmont, Mayor of Harrison, and was attended by over 1500 shoppers.
The 13,000 square foot store offers shoppers classic DeCicco's quality, variety, and service in a contemporary market, with full service deli, meat department, bakery, and seafood departments; a large gourmet and specialty selection; a sushi bar; and hundreds of cheeses and beers from around the world. The produce department carries fresh items from local farmers, as well as organic and international vegetables and fruits. A team of butchers brings together Italian family meat traditions with a wide selection of healthful and gourmet cuts. The DeCicco's bakery prepares breads and other baked goods from scratch every day, upholding the chain's reputation for freshness.
The second generation of DeCiccos, John Jr., Chris, and Joe, opened their first area food market in Ardsley in 2006, bringing the type of service and quality that DeCicco's has been known for in its 30-plus years of operation. The Westchester/Putnam stores uphold the DeCicco's tradition of keeping a firm eye on the future while never forgetting the promises and mindset of the past.
"We look forward to connecting on a personal level with shoppers in our Harrison store," says Tighe Rubinstein, General Manager, Harrison DeCicco's. "We strive to bring the best products to all of our locations, and we are thrilled that Harrison locals will now get to experience our service."
DeCicco's, and Tighe Rubinstein store manager and Harrison resident, look forward to meeting their new Harrison neighbors at the store, located at 7 Halstead Avenue, Harrison, New York, 10529, 914-630-7830, http://www.deciccos.com.
About DeCicco's
DeCicco Family Markets was founded in 1972 by John, Joe and Frank DeCicco. It began as a small storefront in the Bronx, offering a choice of high quality food to its growing array of customers. For over 30 years, DeCicco Family Markets has a proud history of bringing the largest selection of high quality food available to customers with a friendly, personal touch. It is this simple but unwavering mentality that has enabled the company to expand throughout Putnam, Rockland and Westchester counties. The family operates eight stores in the following locations: Ardsley, Brewster, Chester Heights, Cross River, Jefferson Valley, New City, Pelham and Scarsdale. The company is also involved in a number of civic and community-related events, regularly working with schools, Little Leagues, churches and Chambers of Commerce.