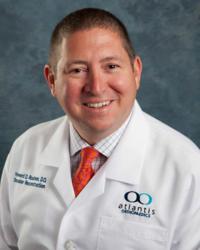 Palm Beach Gardens / Atlantis, Florida (PRWEB) October 09, 2012
Dr. Howard D. Routman, an orthopedic surgeon with Atlantis Orthopaedics of Palm Beach Gardens and Atlantis, FL, recently returned from the 24th Annual European Shoulder and Elbow Society Meeting in Croatia, where he gave two lectures to surgeons from around the world based upon his research regarding orthopedic shoulder replacement surgery, specifically concerning reverse shoulder replacement.
"Many patients have already benefited from advancements in orthopedic medicine as it pertains to the shoulder," said Dr. Routman. "This latest research (involving biomechanical evaluation of three different designs of reverse shoulder replacement prostheses) is intended to further improve the quality of life for all patients."
Reverse shoulder replacement surgery fundamentally differs from traditional methods since it relies on a completely different set of muscles for its function. The reverse total shoulder replacement relies on the deltoid muscle to power and position the arm, where conventional surgery continues to rely on the rotator cuff, which, in many cases, will never again function properly and, therefore, will result in less than optimum treatment results.
Positive Customer Impact
Dr. Routman has committed himself to the advancement of orthopedic shoulder replacement surgery. He has constantly been—and will continue to be—involved in the investigation and future of prosthetic shoulder implants. His most recent research and lectures address future versions of the reverse shoulder replacement prosthesis, and specifically the impact of implant design on the muscles surrounding the shoulder, which translates into function. Quality of life is an important consideration, and the future of joint orthopedics relies on continuous evaluation. According to Dr. Routman, "Reverse shoulder replacement is a popular operation, and there is a need for these types of studies, in order for the science behind the devices to improve. As a designer of shoulder prosthetics myself, I feel that critically evaluating our design and comparing it to other designs can give us insight into why this surgery is so successful and how to make it work even better in the future."
Outside of his extensive work at Atlantis Orthopedics, Dr. Routman is the founder of the Palm Beach Shoulder and Sports Medicine Foundation, which is a local, non-profit organization that promotes educational research and injury prevention.
For more information on Reverse Shoulder Replacement:
http://www.atlantisorthopaedics.com/