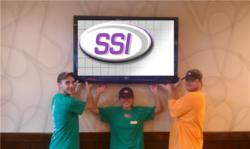 ... Dunkin' Donuts employees excited about new flat panel display in their WiFi seating area.
Hudson, NH (PRWEB) October 09, 2012
Securely Sound Inc., long known for their expertise in home and commercial media systems, has established new headquarters better suited to ensuring the company is able to meet the needs of customers effectively and efficiently. Previously located on Industrial Drive in Hudson, the company's new address is 22 Brady Drive, Hudson, NH 03051.
In addition to their brand-new headquarters, Securely Sound Inc. welcomes Perry Gagnon as their new Technical Director. Gagnon comes to Securely Sound Inc. by way of Comcast, where he worked as an advanced business and residential technician. He brings his expertise to Securely Sound as he looks forward to working with both residential and commercial clients.
Gagnon will primarily focus on system design and programming of home and commercial media and automation systems. He is a perfect fit for an Securely Sound Inc. team committed to offering the latest audio, video and surveillance technology along with cutting-edge installations.
Securely Sound Inc. consistently delivers the best products and services in the industry to a wide range of clients. They can design and install residential systems for existing construction and new builds, or simply work with your current system to make it better. Regardless, a Securely Sound Inc. installation improves both the value and enjoyment of your home.
On the commercial front the company recently landed several key accounts including Dunkin' Donuts, Fulcrum Assoc., and Etchstone Properties. The Dunkin' Donuts projects includes new audio, security systems and flat-panel installations in the company's new concept stores. Fulcrum Assoc. hired Securely Sound Inc. to implement security systems in their new office building. Securely Sound Inc. remains committed to Hudson and the surrounding area. For further information about Securely Sound Inc. products and services, visit their website at http://www.securelysound.com.
About the company:
The requirements of today's modern homes are constantly changing. SSI is committed to bringing the latest advances from the worlds of Distributed Audio, Home Theater, Home Automation and Home Security and Digital Video Surveillance. Specializing in both new and existing construction, their professional staff can design and install a Media System that will enhance and simplify your lifestyle, while also increasing the value of your home or business facility.