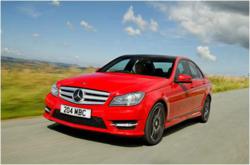 (PRWEB UK) 8 October 2012
Mercedes-Benz C-Class C 250 CDI BlueEFFICIENCY AMG Sport Saloon 7G-tronic Plus
Sometimes a trip to the tailors to redefine ones appearance works wonders for their presentation.
And Mercedes has done just that for its MY13 version of the core C-Class model.
It's not that the key components of the Mercedes C-Class were wrong, rather their presentation in the company car window looked...well, a little tired.
Step forward a new look C-Class line up of model lines called Executive SE, AMG Sport, AMG Sport Plus, and AMG. And standard items now include leather and alloys on all models.
Depending on the users preference, business car buyers have the choice of Executive SE (think expensive suit plus Church brogues) or AMG Sport (same expensive suit plus Nike performance trainers). In other words smart luxury or smart sporting.
The car we're reviewing here is the Mercedes C-Class 250 in AMG Sport trim with seven-speed auto gearbox with paddles for manual changes should you wish. On the road price is £32,965. The lesser-powered C200 auto costs £30,850, while the mid point C220 diesel auto costs £31,925 in the same AMG Sport auto trim.
What's hot?
Understated but definitely eye-catching AMG looks
That's not all. It drives with a satisfying directness that feels like its been honed from Merc's F1 programme
Turn the steering wheel and the car points in the direction you want with accurate speed sensitive assistance
Over humps the firm ride keeps the Mercedes firmly planted on the road...
...but this sporting C-Class also manages to be wonderfully supple over the bumps. There's no crashiness over potholes either.
And then there's the whopping 500Nm of torque from the four-cylinder turbo diesel that pushes you effortlessly up the road.
And a seven-speed autobox that shifts seamlessly along.
Inside it's all AMG sports steering wheel, brushed aluminium pedals and F1 style paddle shifts
Plus a capacious boot and room for passengers in the rear
Easy to use COMAND Online Media Interface for colour digital satnav and interior customisation programs is a must-have option for business users
There's optional on-the-go internet connectivity
With CO2 emissions of 131g/km the topline diesel Merc isn't the cleanest but company car tax is still only 20%
And there's over 56mpg fuel economy, too
What's not
Merc might have upped the ante with its new lines and improved specifications, but be prepared to spend on options...
...the COMAND system, DAB digital radio and pre-wiring for telephone will set you back £2330...
...while the impressive safety pack – called Driving Assistance Package (blind spot assist, lane-keeping, pre-safe brake) is £1895
With CO2 emissions at 131g/km, the Mercedes will find itself the wrong side of the new leasing disallowance tax break when it's introduced from April 2013
Business Car Manager road test verdict
The Mercedes C-Class MY13 is an impressive package – no question.
The three-pointed star has always had a lot of appeal to both small business owners and their user chooser company car drivers, and these new lines put the C-Class back there in the running.
Should drivers go for Executive SE or AMG? That's up to the sort of car they want. But if they like a more sporting image, then the £2k upgrade to AMG is well worth it – and they won't suffer a crashy ultra-stiff riding car either, despite the lowered sports suspension.
They could save themselves some money and choose the 220 diesel version Executive SE – and we wouldn't argue. It's a grade lower on company car tax, the running costs will be better with nearly 59mpg, and while it might not have the outright performance of the 250 it's not far off.
But if users want to spoil themselves, and enjoy the engine's great depths of push-you-down-the-road torque while still conveying them serenely down the motorway as well, then the C250 CDI AMG C-Class is some car.
Mercedes-Benz C-Class C 250 CDI BlueEFFICIENCY AMG Sport Saloon 7G-tronic Plus 7-Speed Automatic - the low down
P11D Value £32,790
Monthly business rental (ex VAT) £397 (3yrs/30,000miles)
Tax band 2012/13 to 2014/15 20% 21% 22%
BIK tax 6,558, £6,886, £7,214
Engine 2.1-litre four-cylinder turbo diesel
CO2 131g/km
Power/torque 204hp/500Nm
0-62mph/Max speed 7.1seconds/149mph
Economy 56.5mpg
For more information, visit Business car Manager at http://www.businesscarmanager.co.uk/