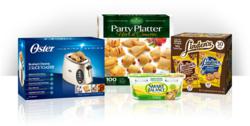 Make a difference on shelf. But more importantly, make a difference from 3-feet away."
Norwalk, CT (PRWEB) October 10, 2012
Hughes Design Group, a premiere brand strategy and package design firm located in Norwalk CT, today announced its partnership with key clients to deliver customized retailer packaging.
This year's holiday season is quickly approaching, and homes across the country will be filled with friends and family -- entertaining guests will be on everyone's mind. Hughes Design Group knows all to well that time, money and larger grocery lists are key drivers to where consumers end up buying during this critical sales period. The retailer battle to win the majority of these shopping visits is heating up.
As a result, Hughes Design Group is collaborating with its brand partners to develop specialty packaging -- creating retail advantage for the likes of Smart Balance, Linden's, Spring Valley and Oster. New packaging showcases products that drive consumer value, solve for the holiday's "hosting" occasions, satisfy larger gatherings, and provide convenience.
Barney Hughes, Founder and President, stated that the firm's approach of actionable creativity™ helps clients win at retail. "For example, while it may not be obvious at first, it is a fact that grocery retailers compete with club and convenience stores as much as they do against other grocers. This dynamic is even more profound during heavy retail seasons. So, we innovate packaging and product offerings to help shoppers make better choices and drive our partners' incremental revenues."
ABOUT HUGHES DESIGN GROUP
Hughes Design Group is a Strategic Marketing and Design firm located in Norwalk CT, specializing in brand identity and packaging design. With 25+ years in business, the firm partners with major consumer packaged brands, as well as private equity concerns. The team works across a wide breadth of industries and categories, earning a reputation for innovative solutions that grow businesses. Its client partners appreciate the firm's high level of brand strategy, creative excellence and account service. Past and current clients include Udi's Gluten Free, Spalding, Hydrive, YoCrunch, Wellpet, Smart Balance, Salada Tea, Jarden Consumer Solutions and Dean Foods.