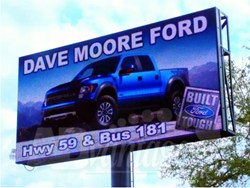 "We offer a total package that we know will work, for the right business." Richard James, ADvantage LED Signs
Houston, TX (PRWEB) October 10, 2012
ADvantage LED Signs recently announced completion of a total turnkey LED Billboard project for Advanced LED Billboards out of Beeville, TX. This approximately sized 12' x 23' full color 25mm with 12.5mm iPixel technology LED billboard was quite the accomplishment, according to ADvantage LED spokesperson, Richard James.
"We provided the Digital LED Billboards, the physical site survey and permitting services," said James. "On top of that, we provided the billboard structure, including the complete installation. Now, the billboards are already sold out, according to the owner Gabriel Aleman, including national advertisers like Subway, Budweiser, McDonald's and Little Caesars." Aleman, the buyer of the billboard said there were no other digital billboards for at least sixty miles of their town and felt they could really make an impact. After seeing the test billboard in person, Aleman was impressed. "Even at a close distance, the clarity was really nice." Since having the billboard installed, Aleman reports the community feedback has been very positive. "Within the next two years, we'd like to have 4-5 Digital Billboards up and running." He adds.
James, ADvantage LED representative, is not surprised at the success the billboard has achieved for Advanced LED Billboards. "We offer a total package that we know will work, for the right business. Our company has experts who consult with prospective clients and help identify whether an LED billboard is the right investment decision for them." Some potential clients may be scared off by the prospect of all the paperwork, but James explains how ADvantage LED handles that for their client base, saying, "ADvantage LED knows how hard it is when pulling permits and billboard permits are the most difficult to acquire. We have a network of professionals around the U.S. ready to acquire that valuable digital Billboard permit for your location."
The turn-key service ADvantage LED offers is what makes them stand out in the crowd of competitors, offering "a thorough site analysis based on several key aspects of your future billboards location. From the data gathered, ADvantage LED will produce professional renderings so you can see your investment before your purchase." He continues, "Even if you're not sure how to create the right ads that will properly showcase your advertising clients, ADvantage LED Signs will help collaborate, design, proof, and deliver high impact professional ads to your advertisers. Honestly, our Total Package LED Billboard solution gives our clients peace of mind. It's really a partnership."
About ADvantage LED Signs:
In business since 2009, ADvantage LED Signs is a US manufacturer of LED signs and sells direct to businesses and organizations nationwide. ADvantage LED Signs is a total turn-key solution provider, stating no job is too big or too small.