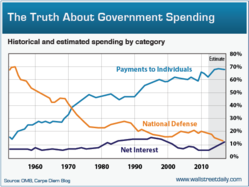 Baltimore, MD (PRWEB) October 08, 2012
Today Wall Street Daily announced the publication of new research on three key trends behind the ballooning U.S. public debt and the inadequacy of current policy to address the problem.
In an exclusive article, Louis Basenese, Chief Investment Strategist at Wall Street Daily, presents his findings. According to Basenese, the status quo is demonstrably unsustainable. To prove this, he presents three data graphics with commentary.
Government spending is rising to fund entitlement obligations, which now represent 65% of the federal budget. Meanwhile, tax revenue is in decline as an increasing number of Americans enjoy reduced, zero, or negative tax liability. This is creating a situation in which a never-before-seen level of public debt is accumulating at a remarkable rate.
If left unchecked and allowed to continue expanding, the mountain of public debt threatens to sap the nation's future economic growth. This means that current government policies could severely damage the nation in the long run. According to Basenese, short of major reforms, the country will face years of mounting tax burdens to service the skyrocketing public debt.
Text of the full article is available here:
http://www.wallstreetdaily.com/2012/10/03/the-three-scariest-government-charts/