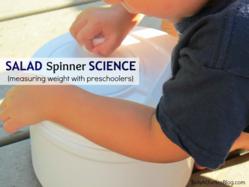 Kids Activities Blog loves to sneak in science learning during playtime.
Dallas, TX (PRWEB) October 14, 2012
How to measure nearly anything is a skill that adults often take for granted. Teaching how to measure items is a fundamental skill for any science activity and has Moms blogging in numbers about activities for their kids. Sneaking in some science while having fun is what Kids Activities Blog is all about.
Moms are blogging about the latest science-based activity that introduces early science concepts to preschoolers. Using a household scale or a salad spinner can teach the young scientist basic life long skills. Follow the basic instructions featured on Kids Activities Blog to sneak in some learning opportunities while having fun.
The cool thing about weight and many things in science is that one can feel the concept. Kids can experience it with their hands, their eyes, and their whole body. By simply setting out various size bowls, measuring cups, and spoons, the child is invited to explore and measure different substances. This easy way on learning how to measure various substances can include weighing or counting cheerios, dominos, flour, water, dirt or whatever the Mom feels the most comfortable that child should be using.
Learning how to measure with a ruler is also a basic science activity. Non-standard measuring it the latest topic. The non-standard method uses anything but numbers to measure distances or objects as featured on Kids Activities Blog.
About Kids Activities Blog
Kids Activities Blog is a website created by two moms (who collectively have 9 children), Rachel Miller and Holly Homer from June Cleaver Nirvana. It is their daily goal to inspire parents and teachers to play with kids. This interactive website publishes simple things to do with kids twice a day. Kids Activities Blog is a great tool for moms and teachers to find kid-friendly activities that create memories and sneak learning into the fun.