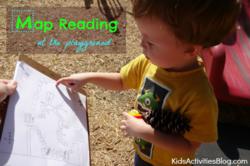 X-marks the spot is still a popular game among blogging Moms.
Dallas, TX (PRWEB) October 16, 2012
Sneaking in learning during kids playtime is what it is all about on Kids Activities Blog. Treasure hunts and other map reading activities are a perfect example of these fun and educational activities.
Map reading skills can be introduced during Early Childhood Development according to Kids Activities Blog. A simple treasure hunt game on the playground has the young explorer wanting to play more.
Everyone likes to go on a treasure hunt. By finding the X-marks the spot on a hand drawn map of the playground and translating the abstract picture onto his real life playground, the child is using cognitive learning skills. The map reading activitiy is easy to set up and turns into an educational and rewarding activity when the treasure is finally found.
Another fun map skills activity can be a food hunt in the house as featured in the latest Kids Activities Blog. This easy activity is fun for even preschoolers.
Simply hide favorite snacks and other items inside the house, draw a map and let the children loose. Depending on the childs developmental stage, help to locate the most prominent features on the map. Then let them explore to find the treasure on their own. Matching objects on the map with items in the house are both fun and educational.
These and more map reading activities are currently featured on Kids Activities Blog.
About Kids Activities Blog
Kids Activities Blog is a website created by two moms (who collectively have 9 children), Rachel Miller and Holly Homer from June Cleaver Nirvana. It is their daily goal to inspire parents and teachers to play with kids. This interactive website publishes simple things to do with kids twice a day. Kids Activities Blog is a great tool for moms and teachers to find kid-friendly activities that create memories and sneak learning into the fun.