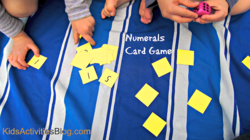 Moms and kids are crazy about these fun and educational math games featured on Kids Activities Blog.
Dallas, TX (PRWEB) October 17, 2012
School is in full session and Math does not have to be boring. Kids Activities Blog features the latest solution out of this crisis: playing a cool math game at home.
Beginning with cool math games for preschoolers, Kids Activities Blog features an easy math game identifying and naming numerals. Using a dice and number cards, the preschooler can match the numbers according to the number shown on the dice and card. This activity is great by playing with a number of children at home on the floor.
Learning numbers is a fundamental math skill that is helpful for math in school.
Kids Activities Blog helps school age kids who are bored with their regular math facts by featuring various cool math games that make both happy, Kids and Moms alike. These games are researched by Kids Activities Blog on the internet and feature various math areas.
Some games feature multiplication games, some decimal place values, some feature virtual manipulatives just to name a few. The Granny Prix, the Lemonade Stand, the Pumpkin Patch and the Cone Crazy are among the long laundry list of cool math games as featured on Kids Activities Blog.
About Kids Activities Blog
Kids Activities Blog is a website created by two moms (who collectively have 9 children), Rachel Miller and Holly Homer from June Cleaver Nirvana. It is their daily goal to inspire parents and teachers to play with kids. This interactive website publishes simple things to do with kids twice a day. Kids Activities Blog is a great tool for moms and teachers to find kid-friendly activities that create memories and sneak learning into the fun.