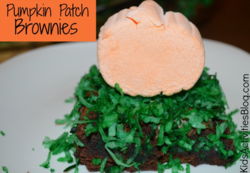 How about eating a Pumpkin Patch Brownie on Halloween this year?
Dallas, TX (PRWEB) October 19, 2012
Super creative Halloween food and Halloween dessert is the latest topic on Kids Activities Blog that has Moms and teachers blog in numbers.
How about making a Pumpkin Patch Brownie this year? Bake the brownies according to the recipe listed on the box. Mix coconut flakes with green food coloring according to the recipe featured on Kids Activities Blog. Sprinkle the green coconut flakes onto the cooled brownies.
Then let the kids decorate the Pumpkin Patch with Kraft Jumbo Marshmallow Pumpkins. Ready is the yummy Halloween dessert. Do not forget to eat some Marshmallow Pumpkins along the way!
Another super creative but also helpful Halloween dessert idea comes from the dilemma about what to do with all the leftover candy.
Making Snicker Blondies out of leftover candy is fun and yummy. One can also sneak in some science learning. Just let the kids measure the ingredients according to the recipe featured on Kids Activities Blog and ready is the super cool Halloween dessert.
These and other creative Halloween food ideas are currently featured on Kids Activities Blog. Bringing kids of all ages into the kitchen to create some fuzzy warm moments is what is is all about. How about creating some yummy sweet memories during this Halloween season?
About Kids Activities Blog
Kids Activities Blog is a website created by two moms (who collectively have 9 children), Rachel Miller and Holly Homer from June Cleaver Nirvana. It is their daily goal to inspire parents and teachers to play with kids. This interactive website publishes simple things to do with kids twice a day. Kids Activities Blog is a great tool for moms and teachers to find kid-friendly activities that create memories and sneak learning into the fun.