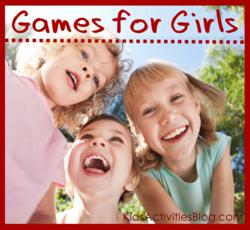 Girls love being girly and playing pretend games with their friends.
Dallas, Texas (PRWEB) October 20, 2012
This Fall Kids Activities Blog has conducted research to reveal the most fun game for girls ideas. Girl play IS different from boy play. Girls love to play princess, prentend games, have tea parties and have glam games.
One of the most memorable girl games are pretend games. These games include drama games, where the girls can make their own masks and turn into other personalities.
Another great idea is playing small world games. Simply create a small world play scene using real sensory elements to enrich the fun and learning experience for younger children. Examples are creating a real barnyard with tubs filled with water for ducks, corn for pigs, grass for the horses and so on. Keeping it realistic makes the pretend play the best.
Another favorite game for girls idea is the Be A Princess game. For that game, the children will make their own princess paper dolls. The kids will dress them and come up with different personalities and create their own fun princess scences.
Kids Activities Blog has 22+ game for girls ideas that will keep even the most girly girls busy for hours.
About Kids Activities Blog
Kids Activities Blog is a website created by two moms (who collectively have 9 children), Rachel Miller and Holly Homer from June Cleaver Nirvana. It is their daily goal to inspire parents and teachers to play with kids. This interactive website publishes simple things to do with kids twice a day. Kids Activities Blog is a great tool for moms and teachers to find kid-friendly activities that create memories and sneak learning into the fun.