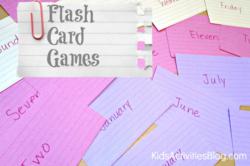 Playing games for a purpose is what it is all about this fall.
Dallas, TX (PRWEB) October 22, 2012
Flash card games are games with a purpose. School is in full session and Moms are blogging about ways to enhance learning to support school work.
Some fun and independent flash card games based on the childs learning are memory games, sequence games, and train games. The cards can be labled according to the childs subject matter in school. Making flash cards for example for first grade can be sight words, phonics spelling, or math addition. Fourth grade flash cards can be history facts, Latin vocabulary, or spelling words. Six grade flash cards can be science vocabulary, geography facts, or literature characters. Play games according to instructions provided on Kids Activities Blog and the childs subject matter in school.
Other games with a purpose include fun math games. Among the featured math games is math fun with skittles. Using candy makes math counting, sorting, graphing, adding, subtracting, and estimating more fun. This fun math game idea can be played by several children at the same time with each one of them having a skittles bag. Play the game according to the instructions on Kids Activities Blog.
These and more educational games have kids work on school subjects with fun this fall according to Moms blogging on Kids Activities Blog.
About Kids Activities Blog
Kids Activities Blog is a website created by two moms (who collectively have 9 children), Rachel Miller and Holly Homer from June Cleaver Nirvana. It is their daily goal to inspire parents and teachers to play with kids. This interactive website publishes simple things to do with kids twice a day. Kids Activities Blog is a great tool for moms and teachers to find kid-friendly activities that create memories and sneak learning into the fun.