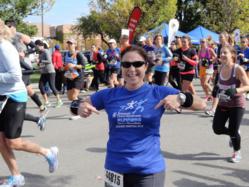 (PRWEB) October 10, 2012
With the Medtronic Twin Cities and Bank of America Chicago Marathons completed this weekend, RDS Runners in Research Down Syndrome's (RDS) national Charity Race Program supporting Down syndrome research have raced a combined 1000 miles to support Down syndrome cognitive research.
"We express our deepest gratitude to the hundreds of runners who have participated in marathons and fun runs across the country to raise funds for research", remarked Dr. Robert Schoen, President of Research Down Syndrome. "Parents, siblings, other family members, friends and supporters have competed in events nationwide, combining their interest in a healthy lifestyle with their commitment to support research that is changing the course in understanding and treating intellectual disabilities in Down syndrome".
Noteworthy is that this milestone occurred in October, National Down Syndrome Awareness month. The program has helped bring national visibility to the promise of Down syndrome cognitive research, while raising significant funds to support this mission.
This week, Research Down Syndrome announced its 2012/2013 grant awards to six research institutions across the country. The grant total represents a fifty percent increase over grants awarded by RDS in 2011.
The RDS Runners Program plans to partner with an increased number of running events in 2013. Also, in response to runners' requests, RDS Runners hopes to establish running clubs in locales across the country, allowing club members to train together, share running tips and combine in support of Down syndrome research.
About Research Down Syndrome
Research Down Syndrome (RDS) is among the leading sources of private funding for Down syndrome related cognitive research. RDS supports and funds Down syndrome cognitive research conducted at research institutions that are studying the basis of the intellectual impairments associated with Down syndrome, including Alzheimer's disease. Research Down Syndrome is a legal corporate entity, and is a 501(c) (3) nonprofit organization designated by the Internal Revenue Code. For more information, go to http://www.researchds.org, or contact RDS: info(at)researchds(dot)org or 877.863.2121.