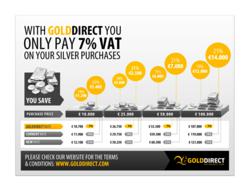 lowest prices on silver coins
Amsterdam (PRWEB) October 09, 2012
Investing in physical silver is becoming more expensive since numerous EU countries increases their VAT-rate and others have indicated an VAT increase in January 2013. The UK has an VAT of 20%, France 19,6%, Portugal of 23%, Italy 21% and in the Netherlands the standard rate of VAT was changed from 19% to 21% in October. Germany still enjoys the low rate of 7%. However, it is expected that Germany will rise towards an 19% VAT-rate in January 2013.
GoldDirect.com has made it possible for customers in Europe to buy silver coins till January 2013 at the 7% VAT-rate. For consumers the 7% VAT can be rendered by picking up the parcels themselves or let it be collected by a courier service from the depot in Frankfurt, Germany. This can save you almost 14% discount on the purchase price.
To give an indication of the 14% discount for clients in Europe with the German VAT rate of 7% you can check our infographic chart.
In addition to this new service Gold Direct offers their European clients the possibility to sell back their gold/silver to Gold Direct using fully insured logistics.