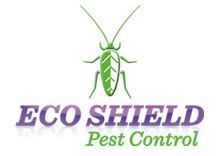 We work hard to make are clients satisfied customers.
Chandler, AZ (PRWEB) October 09, 2012
Eco Shield Pest Control, a home pest control services company, received four and five star ratings from Yelp and YellowPage reviews. YellowPage, with over 42 rating reviews, ranked the Corona, CA branch operation of Eco Shield Pest Control with four out of five stars. In addition, Yelp reviewers gave other branch operations a four and five star ratings. Additional reviews for the company can be found on the Better Business Bureau where its ratings range from "A-" to "A+".
The Yellowpage reviews records the large body of reviews at 42 ratings for an Eco Shield operation with an average of four stars. The branch operation is located in Corona, CA and services the northern LA area. Selected headline reviews from YellowPage describe the service as, "Eco Shield was a very affordable service," "If Yelp had 10 stars I would rate it 10," "I was skeptical at first", and "Very pleased with the service that was performed."
On one of the Yellowpages reviews, a customer stated that, "I decided to try Eco Shield Pest Control out after being with my previous company for 3 years... I am so glad I decided to switch, I have had them just under a year and have seen a significant improvement in the amount of bugs I see."
For Yelp, it has many four and five star reviews for its Geneva IL branch location. One client, who gave them five stars, enthusiastically wrote that " This company is wonderful! I have a 1 1/2 acre yard with a big deck ...I was constantly spraying to eliminate the bees for a day or so. After one spray from Eco Shield my bees were gone. Wow I was so impressed. ... I always have a huge 4th of July party and this was the first time my guests did not have to case away the bees. I am so looking forward to next year to be able to really enjoy my deck the WHOLE summer." You can read the full review at Yelp Eco Shield Pest Control.
Doug Cardon of Eco Shield Pest Control commented that "we work hard to make are clients satisfied customers for our home pest control services. Everyone's needs are a bit different, so our technicians focus on what is the right approach to solve a home bug problem. It's great to read about the results on YellowPages and Yelp."
About Eco Shield Pest Control
Eco Shield Pest Control specialize in the customized delivery of home pest control services for over the past ten years in the United States. Having started as a small regional business in Phoenix Arizona, it quickly expanded into selected areas with its door to door sales operations focusing on pest control diagnosis and prescription. Currently Eco Shield Pest Control operates in nine states and has an "A" rating with the Better Business Bureau.