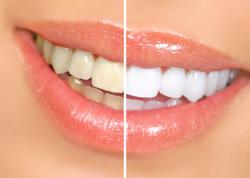 The same ultraviolet light that causes sunburn and skin cancer, can also damage soft tissues of the mouth..
Columbus, Ohio (PRWEB) October 10, 2012
With teeth whitening becoming one of the most popular cosmetic procedures available, there are many options to chose from. If used as directed, most tooth whiteners and bleaching procedures are safe. However, consumers should be aware of teeth whitening products for home use that are sold over-the-counter and online. There is a risk that these products are not manufactured and sold with consumers best interest in mind. Any whitening gel that uses an acidic component can remove enamel. (http://www.sharecare.com/question/does-teeth-whitening-solution-remove-tooth-enamel)
"When it comes to do-it-yourself teeth whitening products, consumers would be wise to make their purchase from a dentist or a teeth whitening professional." said Bruce Deitrick, owner of Abella Ultra-White. "For instance, a number of tanning salons are now offering teeth whitening using an Ultra Violet (UV) light. The same ultraviolet light that causes sunburn and skin cancer, can also damage soft tissues of the mouth when exposed in a tanning bed or anywhere for that matter." said Deitrick.
Teeth Whitening can be very expensive when overseen by a Dentist or Whitening Professional. With teeth whitening costing upwards of $1000 in some markets, consumers are looking to save their money and whiten teeth at home. But this can also be very costly with disappointing results and if the whitening product is misused or left on for longer than the recommended time, severe sensitivity and blanching (whitening) of the gums and lips can occur.
"We just placed our first ad in Columbus Bride, (a local bridal magazine) offering a great value for our whitening products and services for wedding parties and their immediate families. said Deitrick. This discount provides a triple whitening treatment including an $80 take home kit for $135. Now that's something to smile about.
About Abella Ultra-White, Advanced Teeth Whitening.
Abella Ultra-White is a Columbus, Ohio teeth whitening company who provides an alternative to going to a dentist for safe and effective teeth whitening products and services and they use products that are manufactured in the United States made with organic, plant and food based ingredients. You can learn more about Abella Ultra-White on their website at http://www.AbellaUltraWhite.com.