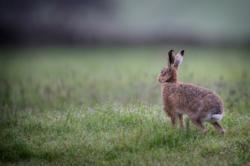 We get lots of hares out in the White Peak
Peak District, UK, 9th October 2012 (PRWEB UK) 9 October 2012
The Peak District wildlife section of http://www.peakdistrictonline.co.uk welcomes a new addition leaping into their winning website dedicated to Derbyshire. The revered and elusive hare makes an appearance with wonderful writing and perfect pictures accompanying it.
"The hare is an animal which causes controversy amongst humans, a bit like the fox," explains James Dobson, director for the family run company, Peak District Online. "It is an animal who is loved with a real passion by some, including me, but it has also been hunted by those who don't seem to understand it. I hope our new page can convert a few of the hunters, into being more like the lovers," he jokes.
Running the website alongside his friend and fellow director, Steve Wake, the pair are passionate about the Peak District, and are also budding amateur photographers. Each page, which is added to the website on a daily basis, will eventually feature photographs of theirs and the new page dedicated to the hare is a mixture of the two's handiwork.
"We get lots of hares out in the White Peak, I'm very glad to say," comments Steve. "They really are beautiful creatures, and have legends and folklore spoken about them, myth and magic surrounding them, which only adds to their aura. We've had such a wonderful response to our Peak District wildlife section, and we are very proud and privileged to be able to share our hobby and our work with our readers."
Both directors live and work in the Peak District. They started the very popular online holiday accommodation directory several years ago and what started off as quite a close-knit family company, has grown and grown over the years to be able to boast they are the largest holiday accommodation directory for the Peak District in the whole of the UK. With a website attracting over 200,000 unique visits each month, it certainly seems to be popular and it just got a little bit bigger. New pages featuring up-to-date news and information about Peak District villages, the people who work there and events and attractions within the National Park, are added on a very regular basis.
"The hare is a real favourite for most of our staff here in the Peak District Online offices and we've all had great fun contributing to the research and writing, as well as going out and about, trying to track down this most elusive creature," explains James." As a very passionate wildlife photographer, I get up at dawn most mornings and lie in wait to capture this gorgeous creature, but with my lens, not with any other weapon."
The team of Peak District Online welcomes viewers to read about Peak District wildlife and add inspiration and ideas for places to visit whilst on holiday in the Peak District. With Peak District cottage last minute deals always on offer, it's never too late to take advantage of the weather they say and encourage their readers to visit the new page all about the hare, now open for viewing.