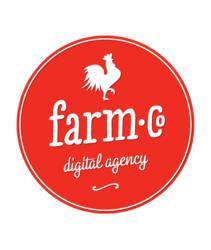 With a shorter, stronger name to convey the company`s evolution, Farm.co aims to build a more lasting impact on the industry
Madrid, Spain (PRWEB) October 10, 2012
As the team goes forward, beyond the boundaries of a boutique web design studio and into the realm of a full-fledged global digital agency, the new brand Farm.Co accompanies the transition that incorporates advanced content strategy, user experience, digital marketing and consultancy services to their already successful web design and development services.
With a shorter, stronger name to convey the company`s evolution, Farm.co aims to build a more lasting impact on the industry. It also reflects their growth brought about by the special mix of attractive designs, marketing efficiency and their very own corporate culture. Assets which seamlessly blends digital effectiveness with traditional craftsmanship and friendliness. This is what have earned them a loyal returning clientele which swells an ever growing portfolio of clients from Asia, Europe and the Americas.
Their Spain-based studio, built on the foundations of the cultural syncretism of Uruguayan and European heritage, is since 2009 the arena where they oversee their team delivering magnificent user-centered designs for forefront clients in the industry, such as Mailchimp or X|Media|Lab.
"This is no more and no less than a milestone in our company's development. We started off with Izzie and a couple of good friends lending a hand to help us materialize our vision. Now, with a team of over 20 experts as enthused and passionate about digital excellence as we are, is the perfect time to move forward in the direction of that vision" say co-founders and Directors Santiago Melluso and Isabel Báez.
About Farm.Co. Farm.Co is a thriving digital agency with headquarters in Spain and offices in Uruguay and the US. Founded in 2009, the agency specializes in strategic digital design, providing services that include web, mobile and e-commerce design and development as well as information architecture, email marketing and UX. In the past few months, Farm.Co has partnered with industry-leading brands such as Big Commerce, Expression Engine, Netsuite and Mailchimp. The agency has generated solutions for 150+ clients, ranging from adventurous startups to Fortune500 companies.
For more on Farm.Co visit http://www.farm.co. Farm.Co empowers companies and entrepeneuers to fully develop their online businesses. Farm.Co is the trading name of Creative Media Farm SL. Farm.Co Paseo La Castellana 164 1º Ent. Madrid – Spain +34 91 0075553
+1 786 245 5030 info(at)farm(dot)co, http://www.farm.co