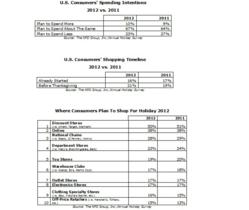 Port Washington, NY (PRWEB) October 09, 2012
The NPD Group, Inc., a leading market research company, released the results of its eleventh annual survey of consumers' holiday spending intentions. The study produced positive news with the majority of consumers intending to spend the same as or more than last year and fewer that say they plan to spend less.
"Looking at this year's responses, I see a light at the end of the tunnel with more consumers telling us they plan to 'spend about the same' and less planning to 'spend less'," said Marshal Cohen, chief industry analyst, The NPD Group, Inc. "While consumer confidence seems to be up retailers will still face some challenges. They will need to develop creative ways to lure shoppers into the stores."
Overall the holiday shopping season will be off to a late start. While more consumers last year started already by this time, this year there will be an increase in the number of consumers who will begin their shopping before Thanksgiving.
"This year the election will be a distraction for the holiday business," stated Cohen. "Consumers and the media will be thinking about the election more than shopping, but when the election is over consumers will get into the holiday spirit."
This year 'where' consumers tell NPD they plan to shop shows the increasing importance of Off-Price Stores, Drug Stores, and a range of Specialty Stores including Beauty, Sporting Goods, Video Game, and Home. There is an increase of 1 to 2 percent in the number of consumers planning to shop at Off-Price Retailers, Drug Stores, and Specialty Stores this year versus last. Off-Price Retailers and Specialty Stores also did better than Catalogs/ Mail Order on the list.
"Watch for more practical purchases this year with consumers buying useful items that they need rather than spending their money on luxury treats," says Cohen. "With a small amount of new products on the market, consumers will give the gift of practicality rather than splurge on special gifts."
"Retailers at all levels are likely to be challenged this year with the channel lines increasingly becoming blurred. Among the competition for traditional retailers this year are Drug Stores and Supermarkets," said Cohen. "Now that consumers are less attracted to sale prices and more attracted to selection as well as convenience, stocking the right items will be essential to drive foot traffic."
The number of consumers expected to shop for themselves dropped to 17 percent from 19 percent. The reason for the decline is most likely a result of consumers shopping for themselves during this year more than last year.
Concluding, Cohen says, "Consumers tell us they want to shop more but without the 'it' item and lack of pent-up demand this could be the Christmas of Contradictions."
###
Source: The NPD Holiday Survey of Consumer Purchase Intentions was fielded to members of NPD's online consumer panel from September 4th to September 11th, 2012. The survey was fielded to a U.S. representative sample; the findings presented here represent 3618 completed surveys. NPD maintains an online panel of nearly 2 million consumers that tell us about their shopping habits.
About The NPD Group, Inc.
The NPD Group is the leading provider of reliable and comprehensive consumer and retail information for a wide range of industries. Today, more than 1,800 manufacturers, retailers, and service companies rely on NPD to help them drive critical business decisions at the global, national, and local market levels. NPD helps our clients to identify new business opportunities and guide product development, marketing, sales, merchandising, and other functions. Information is available for the following industry sectors: automotive, beauty, entertainment, fashion, food, home and office, sports, technology, toys, video games, and wireless. For more information, contact us, visit http://www.npd.com/, or follow us Twitter at twitter.com/marshalcohen and twitter.com/npdfashion. Become a fan of Marshal Cohen at http://www.facebook.com/npdmarshalcohen and watch more on NPD's YouTube channel.
CONTACT:
Erin Cohen
The NPD Group, Inc.
516-625-2203
erin(dot)cohen(at)npd(dot)com