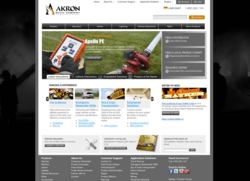 Our team's diverse expertise and skill set, combined with the flexibility of the Magento eCommerce platform, enables us to develop compelling enterprise eCommerce solutions. - Stephen Kidwell, eCommerce Practice Director
Cleveland, OH (PRWEB) October 08, 2012
Metrics Marketing Group, an analytics-driven, database marketing and interactive services firm, announced today that it has been awarded a Gold Stevie® Award at the 10th Annual American Business Awards for its work on the Akron Brass website redesign. Metrics Marketing Group has been awarded multiple awards for its work on Akron Brass, including; Outstanding Achievement Award in the Manufacturing category by the Interactive Media Awards™ and an Award of Distinction from the Communicator Awards. These awards recognize that the Akron Brass website met and surpassed the basic standards of excellence that comprise the web's most professional work.
The Akron Brass website underwent a complete end-to-end redesign that required elements of research and customer experience, search engine optimization and creative design. The site was built leveraging Magento as the website platform. The upgraded site gives Akron Brass the ability to highlight their products and allow visitors to easily search, filter for products and request a quote from distributors. The website was designed to allow individual products to be sent to multiple vendors who would then fulfill their specific portion of the order. The website is able to manage the complexity of this process and keep the customer updated on the overall status and shipment of the order.
The American Business Awards are the nation's premier business awards program. All organizations operating in the U.S.A. are eligible to submit nominations – public and private, for-profit and non-profit, large and small. Nicknamed the Stevies for the Greek word for "crowned," the trophies were presented to winners during a gala banquet on Monday, September 17 at the Julia Morgan Ballroom in San Francisco. More than 200 nominees and their guests attended.
"It is an honor to receive recognition for our work on the Akron Brass website. These awards speak volumes to the quality work that our eCommerce team continues to produce for our clients," said Stephen Kidwell, eCommerce Practice Director of Metrics Marketing Group. "Our team's diverse expertise and skill set, combined with the flexibility of the Magento eCommerce platform, enables us to develop compelling enterprise eCommerce solutions."
Metrics Marketing also won two Interactive Media Awards in 2011 for their Magento website redesigns for clients Hyatt Legal Plans and Spirit of Blue Foundation.
With more than 15 years experience in eCommerce development and design, Metrics Marketing provides comprehensive eCommerce solutions focusing on the Magento Enterprise platform. Every Magento implementation is infused with search analytics and usability best practices, ensuring that your site is optimized for ultimate conversion. Both Magento development and creative is done in-house (U.S. based) by Metrics' Zend and Magento certified developers and designers. Comprised of the best individuals that produce award-winning work, Metrics' team is equipped to provide the best eCommerce solution for any retailer. To learn more about Metrics eCommerce services, visit ecommerce.metricsmarketing.com.
About Metrics Marketing
Based in Cleveland, Metrics Marketing offers comprehensive analytics-driven database and interactive marketing services that include: automated/triggered marketing systems, marketing database development and hosting, email strategy and deployment, predictive modeling, segmentation analysis, search marketing, creative services, website design, development and hosting, eCommerce solutions, web usability, web analytics, user research, traditional market research and Customer Relationship Management (CRM) strategy consulting. Metrics Marketing Group is a Precision Dialogue company and is located at 905 Corporate Way in Westlake, Ohio. Additional information can be found at http://www.metricsmarketing.com.
###
Media Contact:
Kelly Bowman
440.471.6166
kbowman(at)metricsmarketing(dot)com
twitter.com/MetricsMrktg