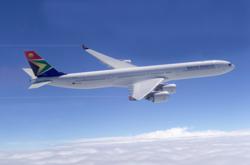 Johannesburg, South Africa (PRWEB) October 08, 2012
South African Airways (SAA) confirms that its Chief Executive Officer (CEO) Ms Siza Mzimela resigned today. She tendered her resignation to the chairperson of the board of directors, Mr Vuyisile Kona at the airline's head office, Airways Park in Johannesburg. The resignation has been accepted by the board and the shareholder duly informed. She had been with the airline for approximately three years as its CEO.
The company has accepted her resignation but indicated that it could only become effective after at least two weeks. This is intended to allow for a seamless hand over process and business continuity.
The board's immediate focus will be on the completion of a new business approach which, amongst other elements, is intended to ensure that the airline is compliant with the conditions that attach to the guarantee issued to SAA by government. In the interim, all operational decisions relating to the day to day running of the airline will vest in the chairperson, Mr Vuyisile Kona.
Two other general managers, Theunis Potgieter and Sandra Coetzee have tendered their resignations and acting executives have already been made.
SAA would like to assure its customers that the latest developments will not affect the airline business as all of its operations remain intact. The company has different layers of management with strategic and operational competencies and for that reason the airline has no doubt that as a collective, those executive managers will continue to give SAA the necessary guidance and provide required leadership.
The airline views these resignations as a turbulence of a temporary nature which must not be allowed to affect its ability to discharge its core function in a responsible and prudent manner. SAA is a resilient company that has the ability to weather the storms.
SAA would like to wish Ms Mzimela well in her future endeavours and thank her for all the hard work, dedication and commitment she has shown towards the airline. She has made a contribution which her successors will certainly build on.
**ENDS**
Digital
Website: http://www.flysaa.com
Twitter: @flysaa
About SAA: South African Airways (SAA) is the leading carrier in Africa, serving 26 destinations across the continent, as well as major destinations within South Africa and internationally from its Johannesburg hub. It is a member of the largest international airline network, Star Alliance. SAA's core business is the provision of passenger airline and cargo transport services together with related services, which are provided through SAA and its four wholly owned subsidiaries: SAA Technical; Mango its low cost carrier; Air Chefs, the catering entity of SAA and South African Travel Centre (SATC). SAA is the winner of the 'Best Airline in Africa' Award in the regional category for ten consecutive years and the winner of 'Service Excellence Africa' for three consecutive years. Mango and SAA hold the number one and number two successive spots as South Africa's most on time airlines.