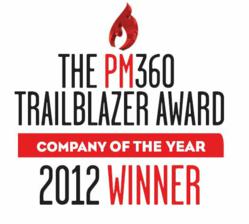 Ewing, NJ (PRWEB) October 08, 2012
eHealthcare Solutions is proud to announce that PM360 Magazine has named us Company of the Year as part of its 2012 Trailblazer Awards.
The award recognized our achievements in evolving our company's brand, introducing new product offerings, and creating innovative, solutions-focused initiatives. Criteria to be considered for the award included innovation in marketing initiatives, employee retention, and social responsibility.
PM360 is a monthly magazine for marketing decision-makers in the pharmaceutical, biotech, and medical device industries. Entries were judged and winners selected by the PM360 Editorial Advisory Board, a cross section of experts from across the industry. Winning entries were judged based on content, format, success in reaching targeted audience, overall quality, and how well the company distinguished itself in its ability to stand out in the complex healthcare environment.
"The PM360 Trailblazer Awards recognize the industry's best companies, initiatives, and individuals," said Anna Stashower, PM360 CEO and publisher. "Winners take chances, explore never-before-tried tactics, and find new ways to relate to the industry. They display outstanding thinking, dedicated leadership, and a passion for improving patients' lives—they epitomize trailblazing." Winners are featured in a supplement to the October issue of PM360.
# # #
About eHealthcare Solutions eHealthcare Solutions (EHS)
http://www.eHealthcareSolutions.com is the leading solutions-focused premium advertising network specializing in the digital healthcare marketplace. The company's exclusive representation of advertising, sponsorship, email, and mobile opportunities from more than 75 top-quality partners helps EHS deliver high-value exposures to and engagement with target audiences across the many niches of healthcare, including physicians, other HCPs, and health consumers. EHS leverages its pharmaceutical, marketing, media, and digital expertise in strategic partnership with its marketing clients to deliver effective, custom solutions for their brands.
The roster of prestigious publishers in the EHS Network includes the American Osteopathic Association and Cleveland Clinic Journal of Medicine. Consumer information publishers include HealingWell.com, OBGYN.net, Glucose Buddy, Bella Online, AIDS.org, and HealthyWomen.org. Publishers serving both the healthcare professional and health consumer audiences include the American Academy of Family Physicians and the American Diabetes Association. eHealthcare Solutions delivers proven results for both advertisers and publishers.