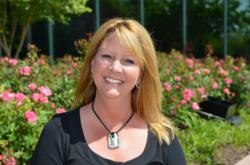 She is an inspiring leader who has impacted her markets by integrating best practices and managing each community to its fullest potential. Sue Ansel, President and Chief Executive Officer of Gables Residential
Atlanta, Georgia (PRWEB) October 08, 2012
Gables Residential http://www.gables.com, a leader in the development and management of multifamily communities is pleased to announce that Lori Godby has received the National Association of Home Builders (NAHB) Multifamily Pillars of the Industry Award for Regional Property Manager of the Year. This annual award recognizes the multifamily professional who has exhibited exceptional leadership in regional property management and provides unsurpassed resident services by maintaining attractive, supportive living and leasing environments that boost occupancy and lease-up rates.
Ms. Godby was recognized for demonstrating her ability to effectively manage a diverse portfolio consisting of Gables owned and third party managed assets in four different markets while never missing a deadline and leading her portfolio to exceed budgeted NOI guidelines by over 5%. In addition, Lori created and implemented numerous outreach marketing initiatives and resident programs which contributed to strengthening neighborhood relations, greater prospect leads and increased resident retention.
"We are extraordinarily proud of Lori for being named Regional Property Manager of the Year," said Sue Ansel, President and Chief Executive Officer of Gables Residential. "She is an inspiring leader who has impacted her markets by integrating best practices and managing each community to its fullest potential, while serving as a great role model and mentor for many Gables associates."
The NAHB's Pillars of the Industry Awards program identifies the best in multifamily design, from low-rise to mixed-use, in rentals and condos, in workforce housing and green building. The organization also honors the industry's most creative and effective marketing campaigns, as well as its top developers and property managers.
###
About Gables Residential
With a mission of Taking Care of the Way People Live, Gables Residential has received national recognition for excellence in the management, development, acquisition and construction of luxury multifamily communities in high job growth markets. Gables Residential owns, develops and manages multifamily communities and mixed-use developments in Atlanta, Austin, Dallas, Houston, South Florida, Southern California, and metropolitan Washington, D.C. Additionally, it has third-party management operations in the Chicago, New York, Boston, Phoenix, Central and North Florida, and Washington State markets. Gables Residential enjoys a healthy portfolio with approximately 37,000 apartment homes under management, including a corporate-owned portfolio of 54 stabilized communities comprising approximately 13,800 apartment homes. An additional 8 communities are under development/lease-up, comprising approximately 2,500 apartment homes. Gables also has the ability to develop another 2,000 apartment homes through its shadow pipeline of undeveloped land owned. For more information please visit http://www.gables.com.