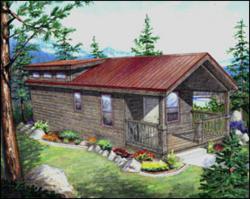 "We're so excited about our last event of the year to celebrate the family business' 50th Anniversary, it's going to be a great Open House celebration."

Dana DeTray, Owner of DeTray's Custom Housing
Puyallup, WA (PRWEB) October 09, 2012
"We're so excited about our last celebration event of the year, as we've added many new model homes at our Model Homes Showplace in Puyallup," says Dana DeTray, owner. "If you haven't visited lately, you'll be surprised to see the variety of homes we're now offering."
Many of the new models reflect a subtle shift in the market for manufactured and modular homes. In addition to a more traditional need for first-time home buyers and retirees, there is an emerging demand for smaller, more vacation oriented homes. As a result, DeTray's has added a new line of homes from Kit Manufacturing that are more of a cottage style, designed for the outdoor enthusiast who wants a quality, rustic product for a hunting lodge, fishing cabin, bunk retreat, home on the lake or just a private getaway in the country.
Manufactured and modular housing offers affordable, energy efficient alternatives to many people seeking to gain home ownership. "We see many people who are looking toward home-ownership again with interest rates so low and are surprised to learn how manufactured homes can be more cost and energy efficient than site-built homes when installed properly," indicates DeTray. "With the housing industry struggling in the past few years, we're actually seeing new purpose for our homes and economic advantages for many people re-entering the market."
The Open House will feature:
*Year-end close out model homes
*Up to $2,500 off Skyline Homes
*On site complimentary pre-qualification
*Computer enhancements & printouts of customized designs
*Family friendly
*Other specials & discounts
DeTray's Custom Housing is located at 10209 149th St. E. in Puyallup, WA. Visit their website for great information about manufactured and modular housing or phone 800-588-1116.