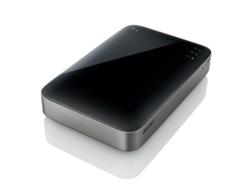 There remains a very limited storage capacity for mobile and tablet devices compared to that for PCs. There's also limited USB-host function for portable devices, so the MiniStation Air is the perfect solution for providing storage solutions to users
London (PRWEB UK) 9 October 2012
Buffalo Technology, a global leader in the design, development and manufacturing of storage and wireless network solutions, today announces the latest innovation in its portable storage range – the MiniStation Air. The MiniStation Air enables smartphone, tablet and laptop users to wirelessly access all of their important data and favourite media files on the go, whenever and wherever they like – be it on the train, in the car, in an airport or in the park.
The handheld drive combines 802.11n wireless data connectivity and 500GB of storage capacity with guaranteed super-speed, secure data transfers of up to 5Gbit/s through its USB3.0 compatibility and WPA2 support. Users are able to wirelessly read and write files on smartphones and tablets, and the device is compatible with Windows 7 or Vista, Mac OS X 10.5 or later, Android 2.3, 3.0 and 4.0 or later, as well as iOS 4.0 or later.
The MiniStation Air also offers users wireless connectivity via WPS and AOSS, as well as WPA2 wireless encryption for secure data transfers. The device has up to 4 hours of life through its powerful lithium battery, and can be charged by its AC adapter, car chargers and USB. Buffalo Technology provides a three-year limited warranty on the MiniStation Air.
Paul Hudson, Sales Director Northern Europe at Buffalo, says: "In 2011 the global smartphone and tablet market surpassed the PC market for the first time, with 448 million smartphone sales and tablet sales compared to 415 million PC sales*. Despite this, there remains a very limited storage capacity for these devices compared to that for PCs. There's also limited USB-host function for portable devices, so the MiniStation Air is the perfect solution for providing storage solutions to users.
"Users who want to watch movies or listen to music that is stored on their PC can now access it wirelessly on the go by syncing their mobile or tablet device up to the MiniStation Air."
There is also a 'MiniStation Air' app available for the device on Apple's iTunes market and the Android Google Play market.
Availability:
The MiniStation Air will be available from Buffalo's retail stockists in the UK at an MSRP of £119.99.
Notes to Editors
Global smartphone and PC sales stats according to Canalys research released in February 2012:
http://www.canalys.com/newsroom/smart-phones-overtake-client-pcs-2011
About Buffalo Technology
Buffalo is a global manufacturer of innovative storage, multimedia, and wireless networking products for the home and small business. The company is recognised as the Number 1 total PC peripheral manufacturer in Japan, and was the worldwide consumer NAS market leader in 2005, 2006, 2007, 2008, 2009 and 2010 (In-Stat).
The company's storage products are addressing the needs of the individual and the business, providing cost-effective network attached storage (NAS), portable and desktop hard drives, multimedia players, and Wireless LAN routers, which together offer a complete and integrated solution for the small office and digital home environment.
Buffalo's product portfolio includes its TeraStation™ NAS devices which are specifically designed to bring Enterprise Storage to the SMB. The LinkStation™ range of NAS products, takes multimedia NAS to the home, and enables you to create a central location to share information, store files, photos and music, and save all your digital content, simply and easily. The AirStation™ range of easy-to-use, high performance wireless networking products for the SMB/SoHo and home user, with industry-leading AOSS™ (AirStation One-Touch Secure System) technology, allows users to build and manage secure wireless networks at home or in the office at the push of a button.
Buffalo's strong international industry alliances with companies such as Intel, Broadcom™, Nintendo and Microsoft have allowed it to lead the industry in the development of the latest technologies into practical tools for the business and the home.
Headquartered in Japan, Buffalo Technology has offices in the UK, France, The Netherlands, USA and Taiwan. For more information please visit http://www.buffalo-technology.com.