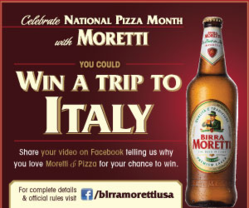 Birra Moretti celebrates National Pizza Month with the Moretti Loves Pizza contest, offering fans a chance to win a trip to Tuscany, among other prizes!
MT. PLEASANT, S.C. (PRWEB) October 09, 2012
October marks the most mouth-watering month of the year, National Pizza Month! The world has had a love affair with pizza for over a century. Although the origin of pizza is greatly contested, we can be sure that the Italians created the first Pizza Margherita in 1889 at Pizzeria Brandi in Naples. To celebrate the iconic Italian dish, Birra Moretti USA announces the launch of a month-long "Moretti Loves Pizza" video contest in which participants have a chance to win the grand prize: a trip for two to Tuscany, Italy and a VIP cooking experience at the Toscana Saporita Cooking School with acclaimed chef Sandra Lotti.
Throughout the month of October, Birra Moretti invites fans to share their pizza passions and what they love most about Birra Moretti through creative videos uploaded to the Birra Moretti USA Facebook page. Along with a chance to win the grand prize of a vacation to Tuscany, weekly winners will also score big.
The brand encourages fans to take a cue from this Birra Moretti digital short direct from two Moretti experts, acclaimed Italian chef Ricardo Ullio of Atlanta's Fritti and Sotto Sotto and celebrated beer blogger Ale Sharpton, who speak to the beer's Italian heritage, distinctive qualities and ideal culinary pairings.
The contest is inspired by Birra Moretti's historic relationship with Italian cuisine and culture. The best performing beer in Italy and a leading Italian beer worldwide, Birra Moretti is widely considered by most Italians to be the perfect beer pairing to a variety of the country's cuisines. This includes the exclusive recipe for Pizza Moretti, which has its roots in the ancient traditions and consummate skills of Pizzeria Brandi in Naples – the very same place where the Pizza Margherita was created 120 years ago in honor of Queen Margherita of Italy, using mozzarella, fresh tomatoes and basil leaves to reproduce the colors of red, white and green Italian flag.
The Moretti Loves Pizza video contest is just one in a series of international efforts Birra Moretti has undertaken to promote Italian cooking across the globe and spread an appreciation for the culinary arts of Italy. Because of this, the brand is excited to celebrate National Pizza Month by inviting Moretti fans and pizza lovers everywhere to enter the Moretti Loves Pizza video contest.
About Birra Moretti
Founded in 1859 by Luigi Moretti in the town of Udine, Italy, Birra Moretti has grown to be one of the most well-known and consumed beers in Italy. Recognized for its iconic label, the Birra Moretti brand is known for both of its popular products: Moretti Original, a traditional lager, and Moretti LaRossa, a full-flavored double malt beer. Purchased by Heineken in the 1990's, Birra Moretti is now exported to over 40 countries worldwide and has won important international awards. In 2006, Birra Moretti was the only Italian brand to have been awarded both gold and silver medals at the World Beer Cup, the most important international competition in the industry. At the same time, it was awarded five other medals at the Australian International Beer Awards – a high level competition in the southern hemisphere – an honor which confirms the high quality of Birra Moretti beer.
About Total Beverage Solution (TBS) 
With an impressive portfolio of wine, beer and premium spirits, Total Beverage Solution supplies the U.S. market with some of the world's most unique brands. Founded in 2002, the company represents brands with market presence and a strong potential for growth. Total Beverage Solution's first sizeable supply contract was Greene King brewers, the producers of Old Speckled Hen and Abbot Ale. Currently, the portfolio includes such brands as Germany's Weihenstephan Beer, from the world's oldest brewery; Birra Moretti, an acclaimed Italian beer; Affligem, a historic Belgian Abbey beer; Tohu Wines from the Marlborough region of New Zealand, the only Maori-owned wine company; Nectar Ales, one of the nation's pioneering microbrewers; Colombo, a D.O.C fine Marsala wine, Edradour Distillery, Scotland's smallest distillery and Southampton, one of the most award-winning craft breweries in America. Passionate about quality and craftsmanship, the company strives to work with producers of the finest products and create value and demand for each brand based on its individually unique qualities. With this philosophy, Total Beverage Solution has quickly earned a reputation for its market expertise and proven sales results. Total Beverage Solution is headquartered at 1671 Belle Isle Ave. Suite 125, Mt. Pleasant, S.C. 29464. For more information, visit totalbeveragesolution.com or call (843) 881-0761.