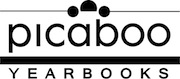 This division is on a mission to give schools, churches, homeschool cooperatives, and community groups a rich option to create photo books that fit their dynamic needs
Menlo Park, CA (PRWEB) October 08, 2012
Picaboo.com, creators of the premier technology-driven photo book service with over 1 million active customers, is taking on the Yearbook industry with its new division, Picaboo Yearbooks, a web app to create elegant and colorful yearbooks for academic institutions, homeschool cooperatives, faith-based organizations, and community groups. The web app allows individuals to create colorful yearbooks using an intuitive online collaborative tool with drag and drop capabilities, photo editing, layouts, and automatic flow functionalities for traditional yearbook pictures. The company officially launched its VC backed division in September 2012 and has gained momentum in over 80 territories across the USA through its mompreneurs and salespreneurs dealership program.
The web app was created as a risk-free model to revolutionize the traditional yearbook industry by providing simplified, personalized and on-demand services to lower costs and time constraints imposed by traditional yearbook companies. The traditional yearbook industry is faced with challenges ranging from complicated software and training, school administrators pre-paying for books before parents and students commit to purchasing copies, tracking sales, marketing and fundraising for yearbooks, cost of printing, and long delivery windows. Picaboo discovered U.S. yearbook sales around the country are down due to debt and lack of time commitments for school advisors and administrators.
Under its tagline "Simplified. Personalized. On-Demand" Picaboo Yearbooks offers schools and other interested groups a feature-rich software to create timely memories of their groups activities and memories. Key highlights include:
Simplified: Advisors or administrators can lower time commitments by eliminating time spent on training new journalism or yearbook students each year with complicated software and can benefit from the collaborative tools offered by Picaboo's yearbook software. Advisors can simply layout the design, assign students sections of the yearbook and non-yearbook staff can upload images and pages to their schools site easily.
Personalized: Picaboo Yearbooks software allows students, groups, parents, and clubs to create pages their own pages for inclusion in the finished book. Individuals can personalize their own books by choosing pages and pictures they want to appear in the yearbook. No longer will popular students or those involved in organized sports and clubs be the only ones featured, Picaboo Yearbooks gives parents and students the opportunity to create their own presence and order personalized yearbooks.
On-Demand: Individuals or administrators are not required to commit to a set quantity or order within a narrow printing window. Yearbook copies can be ordered anytime at the original cost. Picaboo prints and ships within a 10-day turnaround on printed copies.
"We are not only revolutionizing the Yearbook industry by offering risk-free solutions and on-demand printing," said Bryan Payne, President of Picaboo Yearbooks. "This division is on a mission to give schools, churches, homeschool cooperatives, and community groups a rich option to create photo books that fit their dynamic needs. Our pricing is extremely transparent and we give administrators the tools to get this process done faster, easier and on-time. Users do not have to be technical and virtually anyone can use the app without training."
Picaboo Yearbooks offers marketing and fundraising services to their customers at no cost to help schools and groups sell books and get others involved in the production process. Prior to launching in September, the company signed 80 dealer territories throughout the US and are rapidly expanding its sales territories. The program is open to anyone interested in joining Picaboo Yearbooks on this exciting journey to change the yearbook industry. "The industry is still alive and thriving, we are just making it better for everyone" said Payne.
For more information visit Yearbooks.picaboo.com.
About Picaboo Yearbooks
Based in Silicon Valley, Picaboo Yearbooks is a division of Picaboo, a technology-led photo book firm with over 1 million active and satisfied customers. The company is privately held, and its funding partners include several leading Silicon Valley venture capital firms. For more information visit Yearbooks.picaboo.com.