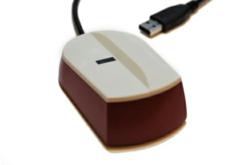 Bohemia, New York (PRWEB) October 10, 2012
Amidst recent excitement in the biometric industry, Edge Electronics, Inc., a woman-owned distributor of electronic components and LCD solutions, is now stocking fingerprint swipe sensor development kits (FPC-SSD), along with its other fingerprint sensor components. The stocked kits are used for testing, evaluation and initial development by manufacturers in the banking, medical, government, security and industrial sectors that are looking to increase security and convenience in their products by incorporating fingerprint swipe sensors.
Since 2011, Edge has been the North American distributor for Fingerprint Cards, a Gothenburg, Sweden-based company that produces capacitive fingerprint sensors and processors used for biometric identification. After manufacturing area fingerprint sensors for years, Fingerprint Cards more recently started to manufacturer the smaller swipe sensors.
Edge stocks separate kits for developing either type of sensor, but according to Robert Tomasino, Edge Electronics Nation Sales Manager, the swipe sensors have been generating the most activity lately. "Fingerprint swipe sensors are smaller, consumer very little power and have the ability to be used for navigation, so they excel in portable products. Recent industry developments suggest that fingerprint identification is going to be a very common technology going forward, and manufacturers have been reaching out to Edge to help them get it integrated into their product lines quickly. Our in-stock development kits streamline that process."
The FPC-SSD development kit includes one FPC1080A swipe sensor mounted on an adapter board, inside a USB enabled ergonomic housing as well as demo software, algorithm files, and full documentation.
For more information about FPC-SSD or other Edge products, please visit http://www.EdgeElectronics.com/products/fingerprint_sensors, email Edge(at)EdgeElectronics(dot)com, or call (800) 647-EDGE (3343).
About Edge Electronics
Edge Electronics, Inc., based in Bohemia, NY, is a leading franchised distributor of electronic components (active, passive, and interconnect) and LCD solutions (displays and related products) which are used in the manufacture and assembly of electronic products, including: telecommunications equipment, medical devices and instrumentation, industrial equipment and controls, military/aerospace systems, kiosks and digital signage, and automotive and consumer electronics. With 11 strategically located sales offices throughout the US, Edge focuses on providing industrial, commercial and consumer OEMs and contract manufacturers with the most personalized customer service in the industry, easy access to the latest technologies and fully customizable solutions that are the perfect fit for each customer's specific application and business model. Founded in 1990, Edge Electronics is ISO 2001:2008 certified for quality and is a certified Women's Business Enterprise (WBE) that is both established and flexible, making it an invaluable supply-chain partner for electronics manufacturers across all industries.
###